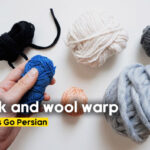 What is the difference between silk and wool warp in carpets?
Get to Know Nahavand Carpets
From Shiraz to Tabriz: A Journey through the World of Iranian Carpets
Iranian handwoven carpets are known for their beautiful designs and colors, featuring various weaving styles. Some well-known patterns include Lachak and Toranj, which have gained global recognition. Practices such as Shah Abbasi, Gol Boteh, Gol Farang, Kheshti Design, Afshan, Turkmen, Shikargah, Tree, Mehrab, Fish, Geometric, and many others are also popular.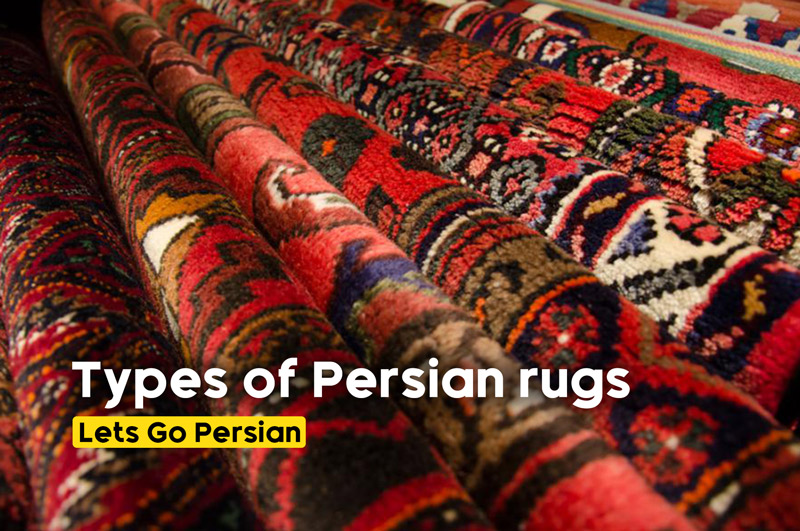 Tabriz Handwoven Carpets: Tabriz is home to some of the finest carpets. Tabriz's handwoven rugs showcase a variety of beautiful and distinct colors. Most of them have high knot counts and fine weaving. The Heris Millennium carpets, Fish pattern, and Salarieh pattern are among the most famous designs in Tabriz carpets.
Tabriz carpets are characterized by high color diversity, creating a unique quality unmatched by domestic or foreign examples. Using light and shadow techniques in Tabriz's carpet weaving has made a universal depth in their patterns.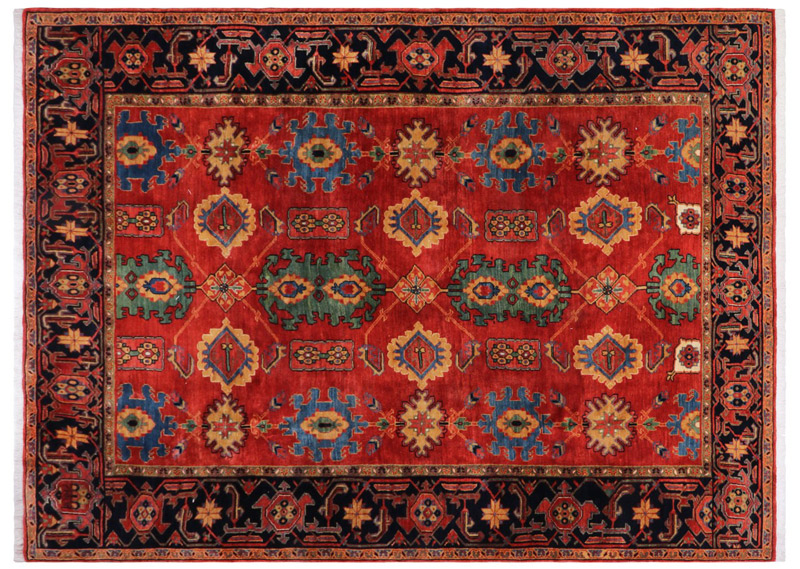 Haris Carpet – Tabriz
Kashan Handwoven Carpets: Among the oldest and most valuable Iranian handwoven carpets are those from Kashan. The art of carpet weaving in Kashan dates back to the Safavid era. Silk, wool, and cashmere carpets from Kashan are of high quality and beauty.
Kashan handwoven carpets have delicate and intricate weaving. Their pile consists mainly of cotton, and they have excellent quality due to the use of natural fibers. While silk carpets are expensive, many now use wool or cashmere for the body, with silk used for the floral patterns to enhance their beauty.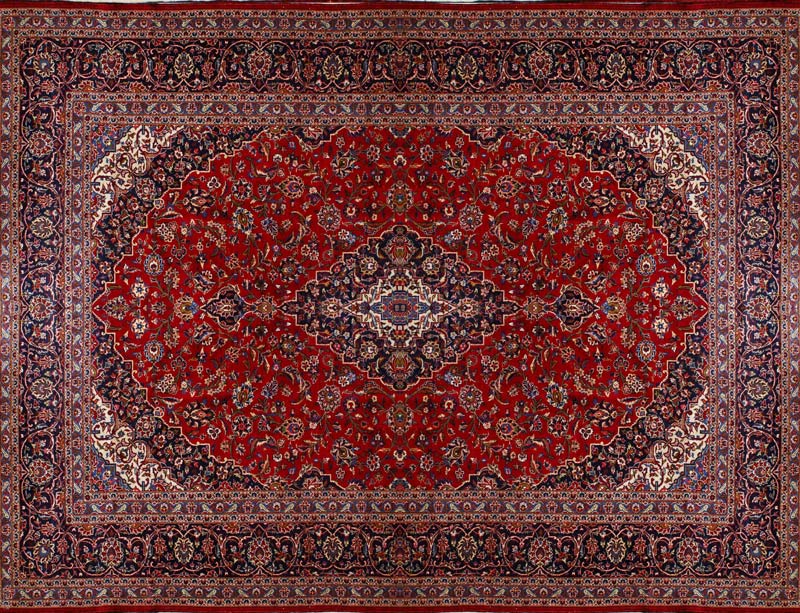 Kashan Carpet

Qom Handwoven Carpets: Silk carpets from the city of Qom are of very high quality and are considered among the most sought-after Iranian carpets. Initially, Qom mats were made using coarse wool, but contemporary artists in Qom now weave silk carpets with high knot counts, mainly known for their flower silk carpets.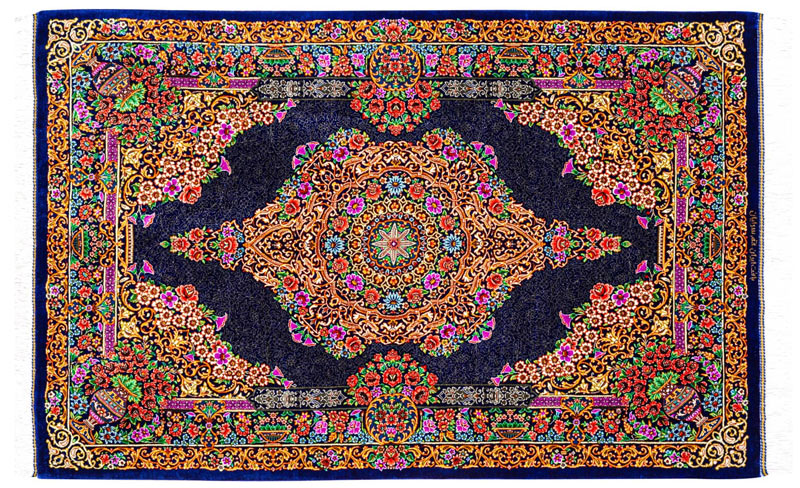 Qom Carpet
Turkmen Handwoven Carpets: Turkmen carpets are mostly coarse-woven with repetitive geometric patterns. The well-known patterns in Turkmen carpets are "Gul" (flower) and geometric designs.
Turkmen Carpet
Kerman Handwoven Carpets: Kerman has long been one of the prominent centers for carpet weaving in Iran. Standard designs for Kerman handwoven carpets include flowers, leaves, and trees. They often use natural dyes, making them some of the most colorful rugs in Iran.
Kerman Carpet
Mashhad Handwoven Carpets: Mashhad carpets are known for their quality materials, utilizing the best materials. The cotton used in Mashhad carpets is of high quality, contributing to their durability. The warp threads of Mashhad carpets are made from wool.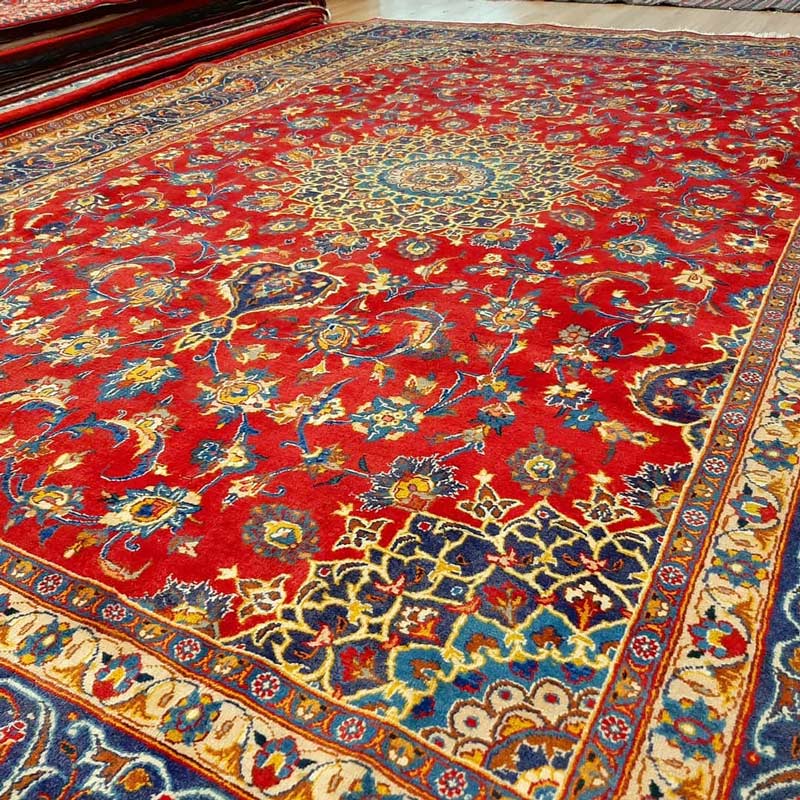 Mashhad Carpet
Isfahan Handwoven Carpets: Isfahan handwoven carpets have unique color palettes, often characterized by warm tones. Isfahan carpets, while having a variety of colors, prominently feature warm colors such as reddish-brown, green, turquoise, and blue. They are rich in selected patterns, and the colors used for the background and designs are well-coordinated.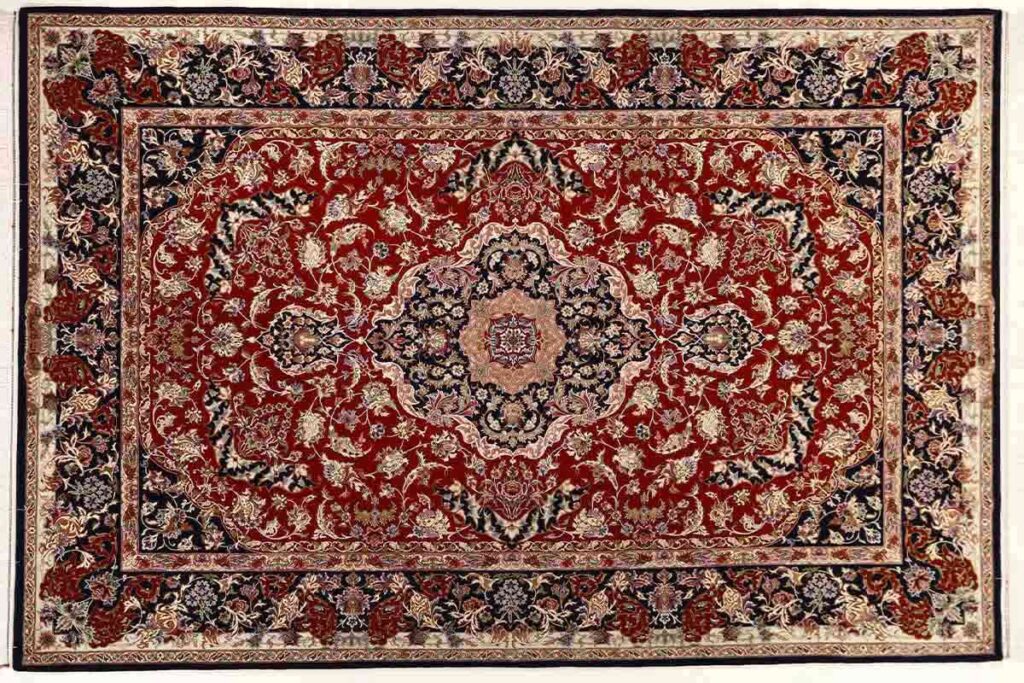 Isfahan Carpet
Nain Handwoven Carpets: Nain handwoven carpets are considered among the best in the world. They feature traditional patterns such as Shah Abbasi and Toranj Lachak with Islamic, tribal, and hermitage motifs. A significant part of the prominent identity of Nain carpets comes from their traditional patterns and unique coloring.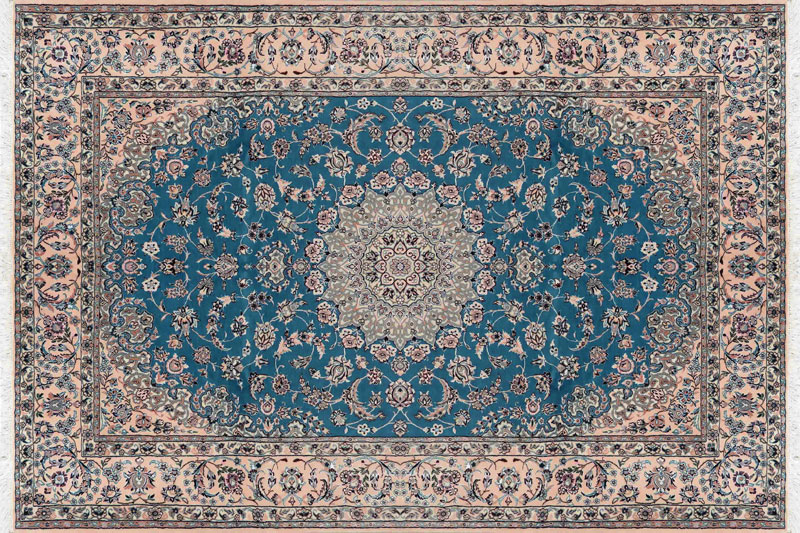 Nain Carpet
Shiraz Handwoven Carpets
Shiraz carpets are predominantly woven by nomads residing in various regions of Fars Province. The patterns commonly used include Qashqai, Khamsa, Lori, Abadeh, and Afshar. The knots in Shiraz carpets are not overly fine, although Qashqai and Abadeh carpets have finer knots.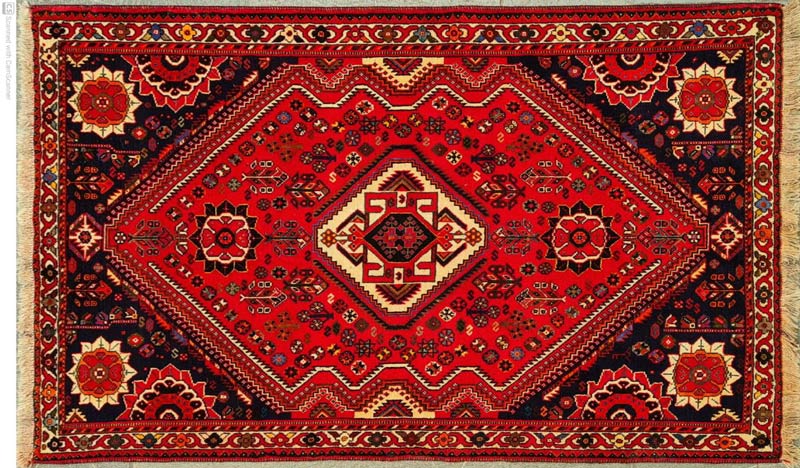 Qashqai Carpet
A unique feature of Shiraz's handwoven carpets is the depiction of nightingales, appearing as cornered birds. The presence of birds in the pattern of Shiraz carpets symbolizes satisfaction and joy.
Gabbeh Shiraz
Gabbeh Shiraz is probably the most recognized and famous handwoven carpet in Iran. This beautiful carpet, woven among the Qashqai nomads south of Shiraz, is rough and tribal, with simple and mentally stimulating patterns. It is made using hand-spun wool and dyed with natural plant-based colors. This type of carpet is thicker than other Iranian carpets, sometimes reaching 2.5 centimeters.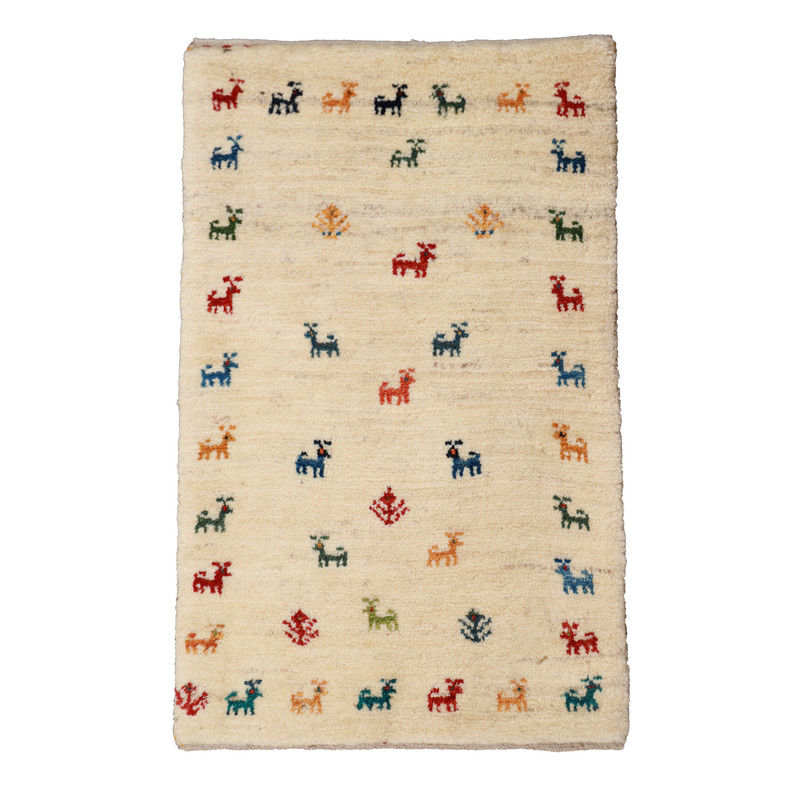 Gabbeh Shiraz
Which is the best handwoven carpet pattern?
If you're looking for a carpet with a lacquer and red background and a red flower in the middle, choose the Lachak and Toranj pattern, one of the most authentic and historical Iranian carpets.
If you prefer finely woven and artistic carpets, choose carpets from Tabriz and Qom. It's worth mentioning that these carpets are among the most expensive handwoven rugs.
If you like carpets with rural and tribal patterns, choose carpets from provinces such as Fars, North Khorasan, Kurdistan, and Golestan, as their coarse-woven designs are more affordable.
If you are interested in uncomplicated carpets, carpets from Kerman and Ardakan are a better choice as they have a wide variety.
If you prefer modern designs, choose patterns like brick design, Qa'bi, Minakhani, Boteh Jigha Isfahan, Kashan, or Arak.
If the price is essential to you and you are looking for affordable handwoven carpets, choose patterns like delicate fish, Mehrabi, and Lachak Toranj from provinces such as Hamadan, Kashan, and Zanjan, which are made from thick wool and are considered coarse-woven but of good quality.