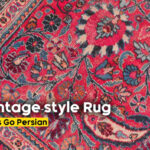 What is a Vintage-style Rug?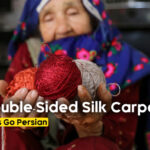 What is Double-Sided Silk Carpet?
Discover Gol Farang: Faradonbeh's Artistic Carpets
How familiar are you with Faradonbeh carpets? It's an area in Chaharmahal and Bakhtiari Province where beautiful carpets, the most famous of which is Gol Farang (European Flower), are woven.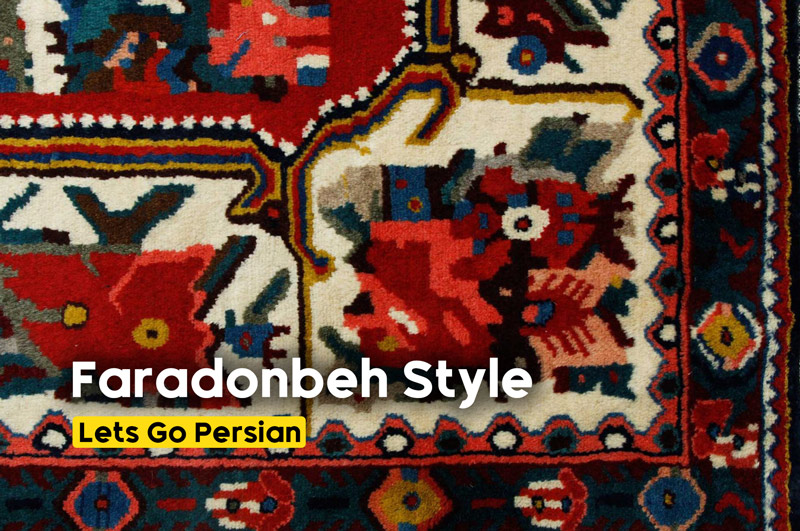 Faradonbeh is recognized in Tehran, other cities, and by carpet enthusiasts worldwide for its unique and beautiful Gol Farang design. The patterns are said to be inspired by flowers and were introduced to western regions of the country almost two centuries ago due to their captivating charm.
It's said that this pattern, well-known for its vibrant and appealing colors, resembles the European Gobelin flower. Gol Farang carpets, with their distinct shapes and forms compared to traditional Iranian carpets, incorporate principles of naturalism and color shading in their designs. Interestingly, it's believed that this design initially made its way from Iran to Europe in a simpler form and later returned to the country with a newer style after several centuries.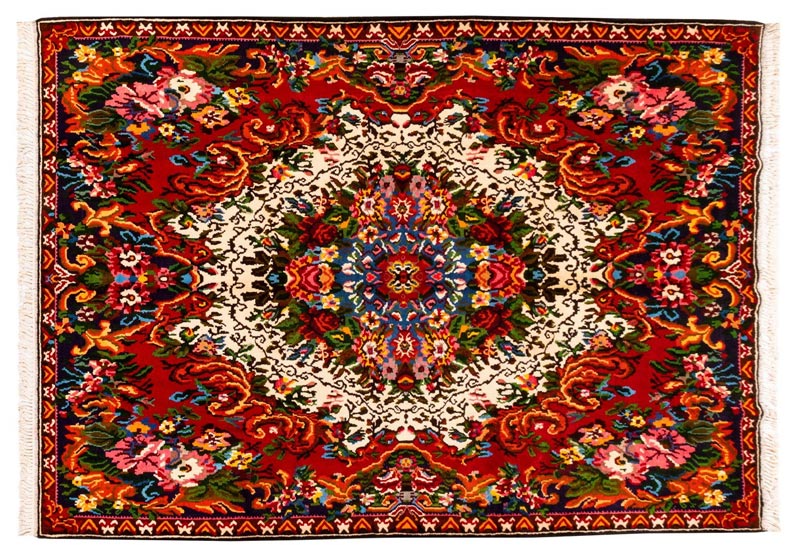 Where Is Faradonbeh?
Before delving further, let's mention the region of Faradonbeh. This high-altitude and cold region in Chaharmahal and Bakhtiari Province is among the centers of rural carpet production, featuring carpets with specific characteristics.
In the Faradonbeh district, along the route from Shahr-e Kord to Borujen, relatively coarse carpets are woven with broken branch patterns and distinct designs influenced by the patterns of Iranian carpet designs, mostly inspired by the Qareh Bagh of the Caucasus region. These carpets are woven in very cheerful colors such as bright red, olive green, yellow, grass green, and light blue.
Classification of Gol Farang Patterns
Gol Farang patterns have a deep-rooted history in the carpet weaving regions of the country, and some of the most famous ones include Gol Farang Gol Petooyi, Esfandegheh, Mostofi, Gol-o-Bolbol, Mousa Khani, Lachak-o-Tarang, Mirza Ali, and Dasht-e Goli.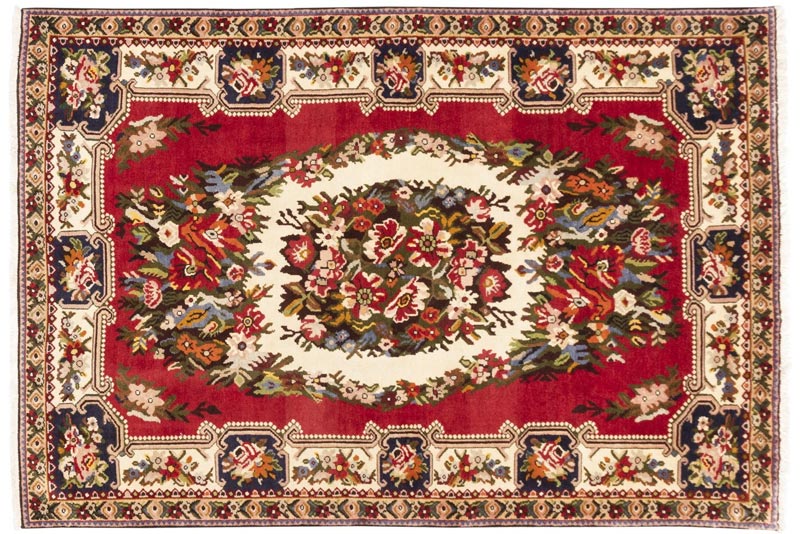 Petooyi Bakhtiari Gol Farang
One of the most popular and beautiful Gol Farang patterns is known as Gol Petooyi or Shorabe. This pattern has gained fame as a Petooyi carpet in the markets of Tehran and Borujen. Its warp and weft are made of wool, and it is very light and soft. Its motifs are formed by very large and thick Gol Farang flowers, closely resembling a Petooyi. Ali Hasouri believes that this design is inspired by French chocolate boxes and has been adopted and used by weavers.
Esfandegheh Gol Farang
This pattern, known as the pattern of red flowers of Esfandegheh, is used in the Esfandegheh regions of the Jiroft district in Kerman Province and is among the popular patterns in Kerman Province. In recent decades, due to the significant reduction in such patterns, this carpet has experienced a considerable price increase.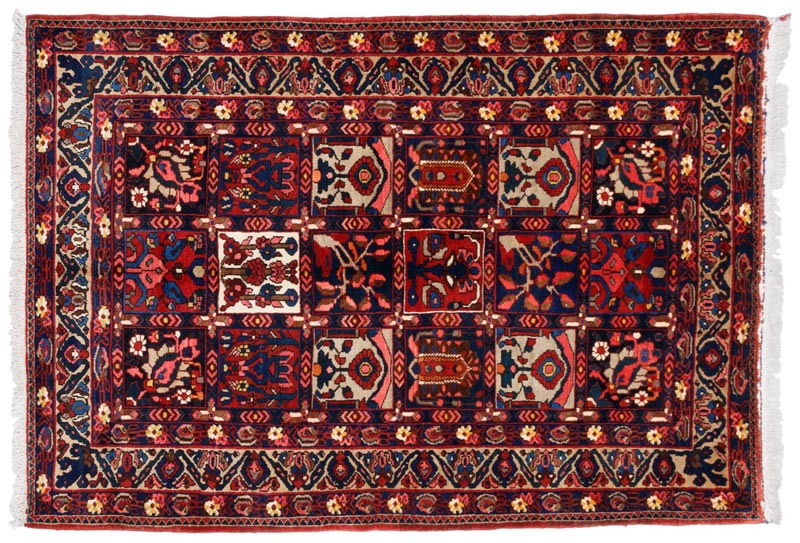 Mostofi Gol Farang
The base of this pattern consists of Rhombus with Gol Farang, decorative twigs, and blossoms. Sometimes, Eslimi lines are used for additional ornamentation of flower clusters. Mostofi was a title given by the Qajar kings to traditionalists and agents.
Common areas for this pattern are Tabriz, Arak, and Bijar. Another type of Mostofi known as Mostofi Bijar uses the Gol Farang Mostofi pattern but is distinguished by quarter Rhombus and special roles assigned to Gol Farang flowers.
Gol-o-Bolbol Gol Farang
This design is a combination of two ancient Bijar patterns: Gol-o-Bolbol and Gol Farang. In the margins of Eslimi and Gol Farang's illustrations, nightingales are depicted sitting and standing in various poses on flower clusters. This pattern was used in Isfahan and is now part of the patterns used in Bijar.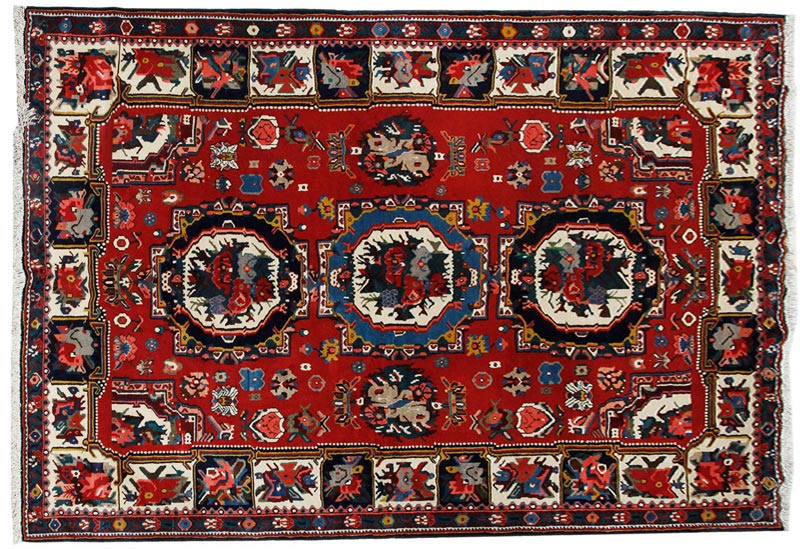 Other Specifications of Faradonbeh Carpets
The threads or warps used in the weaving of carpets in this region were all hand-spun. Even today, artisans in this region use hand-spun and dyed wool for weaving, and the dyeing process remains traditional and plant-based, with minimal use of chemical colors in handwoven fabrics.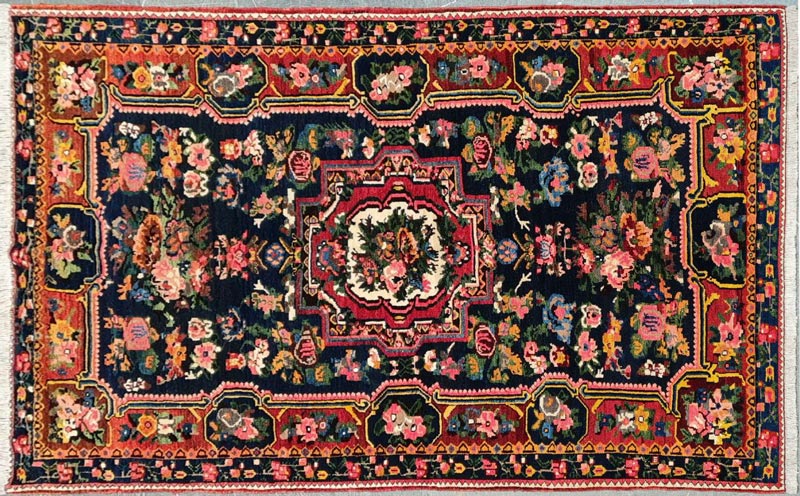 Artisans in Faradonbeh use symmetric Turkish knots, and the wafting is done with a single weft. Due to the high demand, most vintage carpets from this county are exported, and it's becoming increasingly challenging to find vintage carpets from this region.