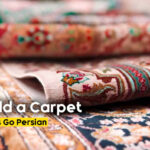 What is the correct way to fold a carpet?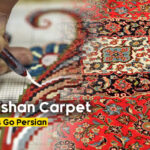 Introduction to Kashan Carpets
Patterns of life in Iranian nomadic carpets
Nomadic carpets are renowned for their diverse and meaningful motifs, each carrying a unique story, cultural significance, and symbolism. These motifs often reflect the mobile way of life, connection to nature, and historical influences.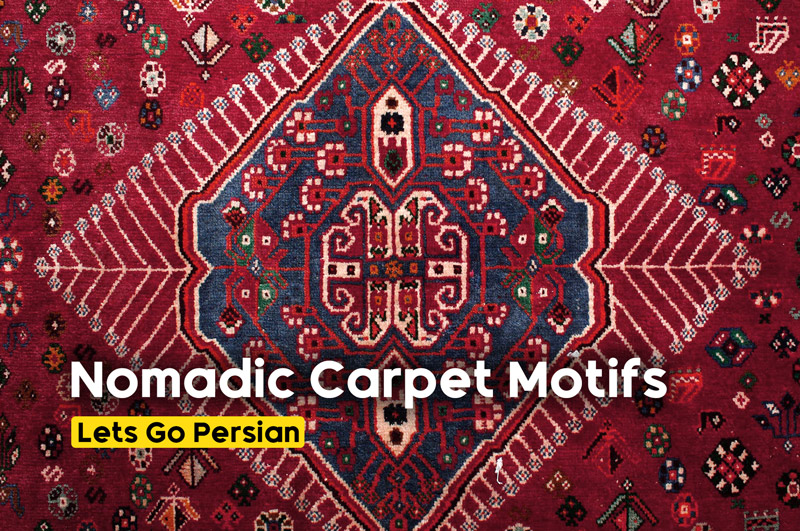 Traditional Persian carpets feature many motifs, including geometric shapes, floral patterns, animal figures, and tribal symbols. These motifs are not merely decorative; they convey the weaver's experiences, beliefs, and the essence of their nomadic lifestyle. Additionally, the choice of colors and arrangement of motifs in these carpets contribute to the overall aesthetics and artistic value, making each mobile rug a masterpiece that represents Iran's rich cultural heritage and craftsmanship.
Lozenge
One of the motifs or symbols that have been repeated a lot in the past centuries is the rhombus symbol.
This pattern is sometimes combined with several other ways to make it more powerful.
They used this role to ward off sore eyes in their handwoven.
They believed in their heart that they could prevent the injury with this role.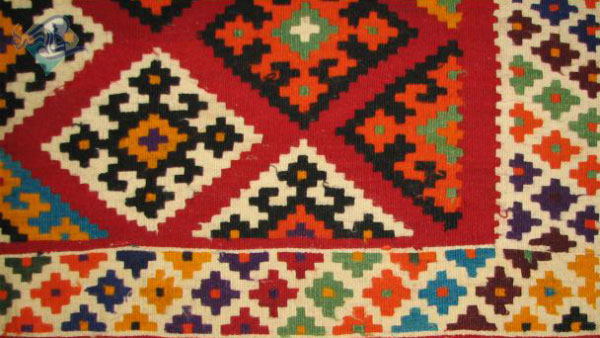 Triangle
In tribal belief, the triangle or pyramid is a symbol of the devil, and using it next to the motifs or border of the carpet is to prevent the demonic forces from entering the place where the carpet is wide.
They are still woven in many nomadic and rural carpets.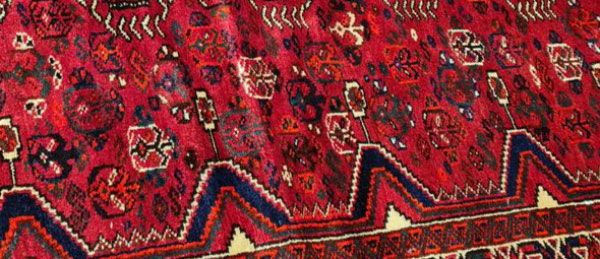 Ram's head
A ram's head is a great symbol, and this symbol is for people who have a high position among their people and tribe.
Turkmen weave a ram's head pattern on Khan Ilshan 's tent. The heads of the Rams are far away. The rhombus pattern is incorporated to remove the sore eye from Khan or an influential person.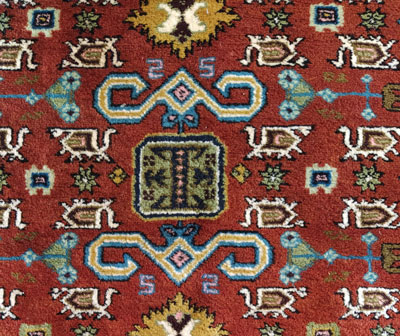 Goat
In the mythological culture of Iranians, the goat is a symbol of asking for rain, and it is repeated in most of the nomadic motifs.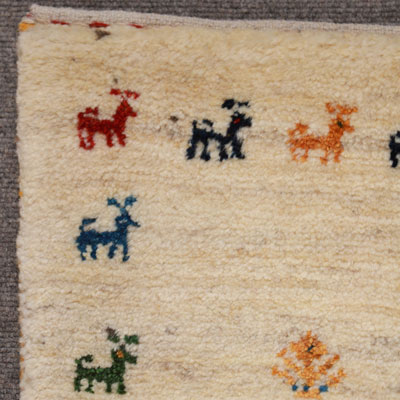 Crab
The role of the crab is to drive away evil. Our ancestors had a strange belief in constellations and considered the crab as one of the constellations.
In some nomadic carpets, we can see that crabs are used a lot and are also used to remove calamities and calamities.
Snake and Dragon
In Iranian culture, the snake is a sign of health and protection. In carpet designs, snakes are woven in the shape of an S, known as a cloud and wind pattern in the market, but in reality, this is the snake symbol that has been tied on carpets for many centuries and is considered a kind of guardian.
Like the snake, the dragon is responsible for guarding and warding off demonic forces.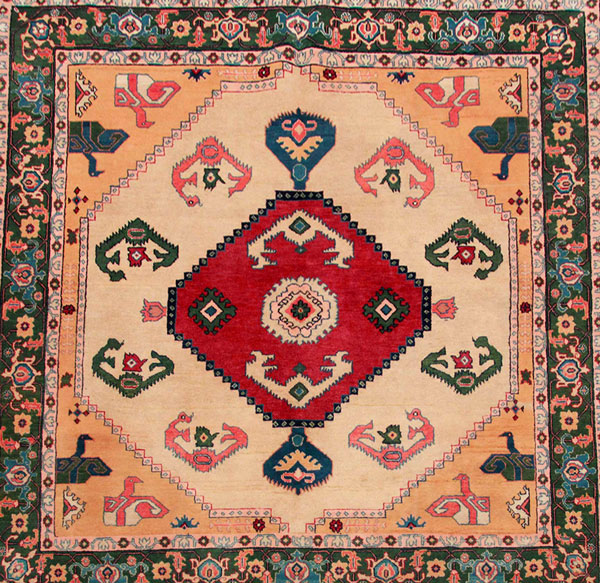 Fish
As mentioned above, the fish is the guardian of the tree of life and is usually used next to the sun or the tree of life. Fish is a symbol of guarding life.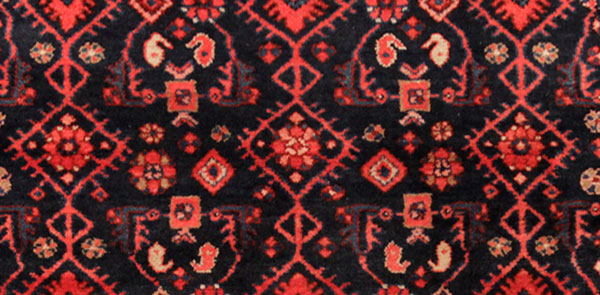 Chahar-Pareh
This symbol is similar to a flower with four portals, but the nomads believe the world consists of 4 elements: water, wind, Earth and fire. We have four main directions: each year has four seasons, each month has four weeks, and … . these logical concepts are shown as a four-part symbol in nomadic carpets.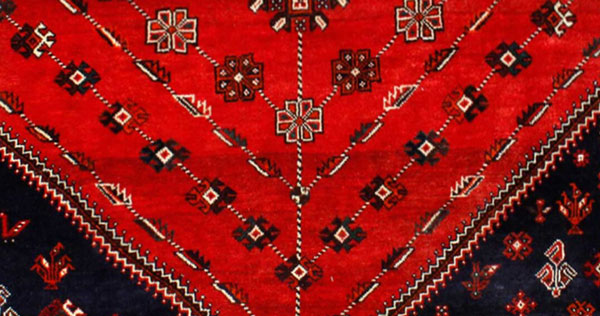 Turtle
The turtle is a symbol of longevity and fertility.
In the carpets with a turtle design, the mother usually weaves it for her daughter so that she has a long life and can give birth to many children. Even the wide ribbon woven by Qashqai mothers until a few years ago was the main symbol of that turtle.
The two ends of the tape were sewn together, and the middle was filled with straw and tied on the horse's back. The bride sat on it and was taken to the groom's house during a ceremony.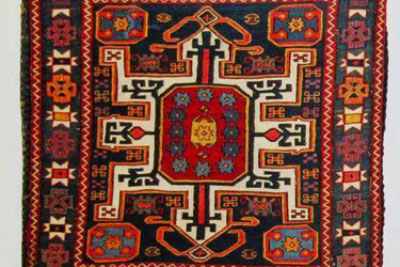 Lion
Poa is a powerful force on Earth. A carpet with a lion pattern tied was given as a gift to the Khan or power influential of the clan. The meaning of the texture of this role is to attract positive forces for the person to whom this carpet was given as a gift.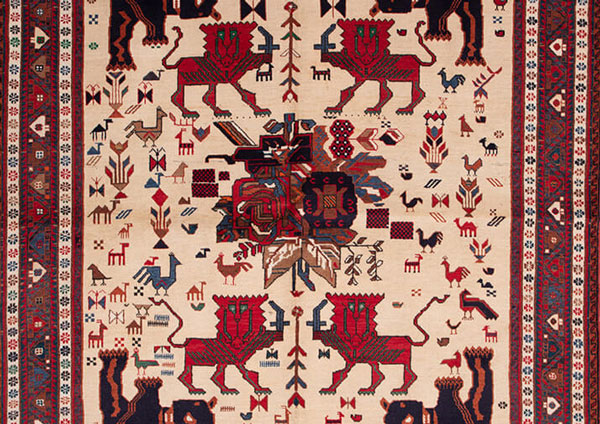 Dog
The dog symbolizes war and the defense of the clan and family.
Nomads sometimes weave events or wars in their time as carpets, and if someone can translate the motifs, he can surely understand what happened on the rug woven with humans, dogs or other symbols.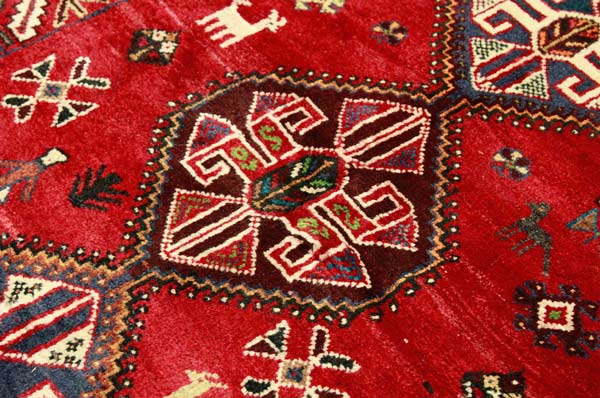 Peacock
This beautiful bird does not have a good history in our culture and is known as a bird with a beautiful head and shape with ugly legs that seduce and is a deceptive bird. This symbol was used to ward off deceit and trickery in carpets.
Eagle
This bird has always been famous as a powerful bird that flies high. This bird is a symbol of supernatural power and force on Earth.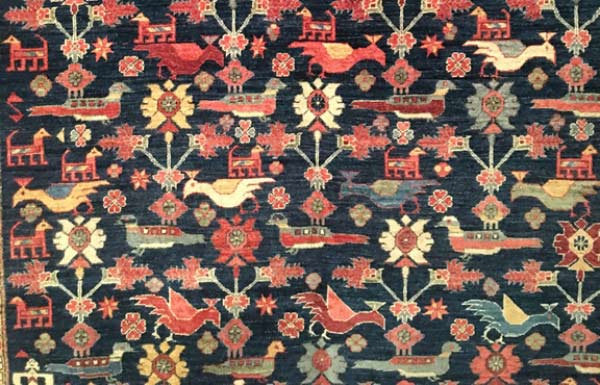 Crane
Crane is a symbol of asking for rain and asking for blessings.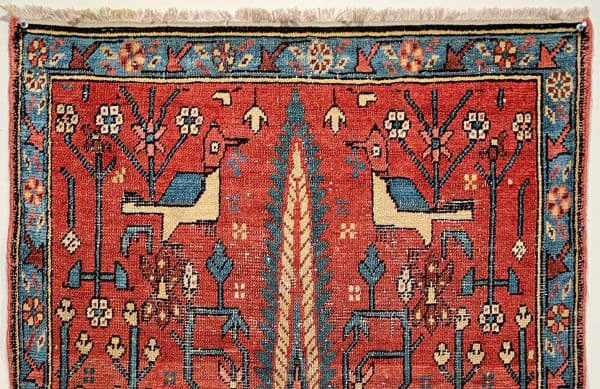 Crow
It is a symbol of news.
Rooster
The rooster is considered a sacred bird among the nomads because it sings at dawn and heralds the end of night and darkness.
Hand
Some believe that hand or two hand prints on small carpets mean worship or prostration, but this is untrue. The role of one hand is a sign of warning, and the part of two hands is a sign of peace and friendship.
Men and women
Don't be surprised if you see a pattern of a woman and a man on a carpet, rug, tape or any other handwoven design. This pattern was woven for those who could not have children, or it is a charm for a newly married couple, and it is believed that this symbol is very effective for fertility.

Lilies
The lily is a sign of strength and health and the main symbol of the Achaemenids. The lotus flower is usually woven into the heart of characters, such as a rhombus.
Tree
It is a sign of life. In many carpets left from different centuries, the existence of the carpet symbol can be considered.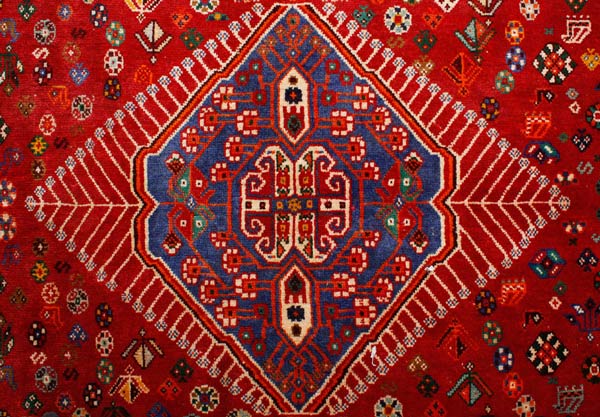 Al (Aal)
The ancients and even those in this age believe in a creature called "Al," who torments Zao's wife and eventually steals her child. The symbol of a human-like creature with long arms and fat or thin legs is the symbol of Al. The purpose of weaving it is to distance Al from the family so that Zao's wife and child are away from Al's demonic force.