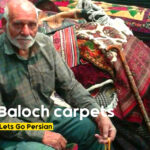 A man who loves Baloch carpets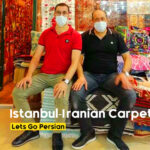 Iranian carpets behind the window of Istanbul carpet sellers
The Master of Zillubafi: Mohammad Hasan Ghanipour
The late Mohammad Hasan Ghanipour is one of the greats of Zillubafi. He has woven many Zillus throughout his life—Zillus with original Iranian motifs. A Japanese researcher named Mr. Yoshida, who devoted his doctoral dissertation to Zillubafi in the field of geography of handicrafts, interviewed Professor Ghanipour, which was published in the Institute of Oriental Studies of Kansai University in Osaka
reRead part of this interview below: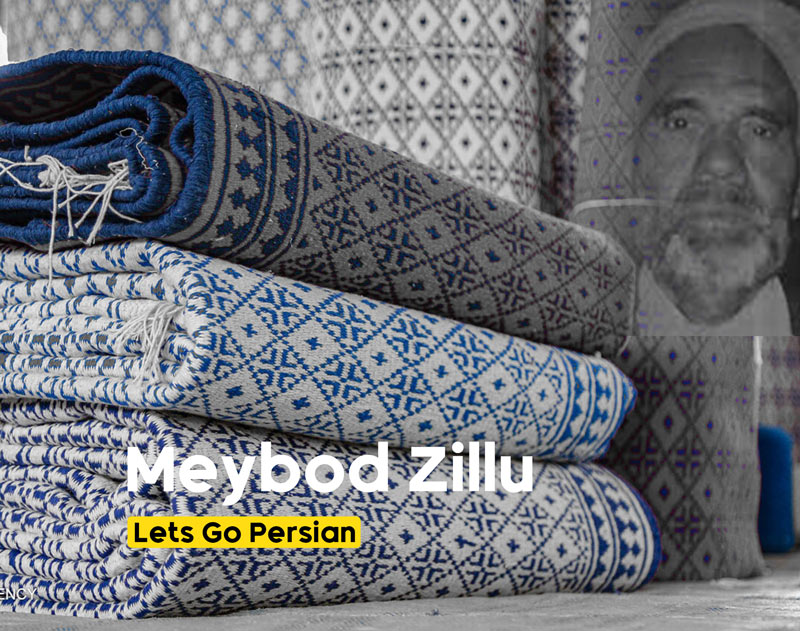 Professor Ghanipour, who did you learn Zillubafi from?
I was holding Dad's hand. I watched and learned what he was doing. The other students who came had to be taught by Baba, but I learned with my intelligence.
Do your sisters also knit?
No, they don't weave zilu. They used to spin thread and grow cotton.
Did women spin cotton?
They used to bring chicken from the desert. We used to buy and give to Halaj, and the women would grow and make yarn. It was not that we went to buy yarn from the factory, and then we used to take a part of the yarn white and give a dye to another region.
What Zillus do you knit the most?
The main work has been weaving Zillu for mosques. Most of them belonged to the mosque. From Haft Pashtu, our generation of weavers, whose work was Endowment Zilu, incorporated all kinds of patterns, all types of writing and calligraphy.
How did you dye?
" blue " for the house we wanted, but we dyed the " flower " red, the blue which was made of indigo at that; they said that indigo came from Germany. The painter poured paint into a pot for seven or eight days to settle. He did not touch it. Then he would open the door and put the strings inside.
But the red colors were red ink. We had Patil at home. When the water was boiling, we poured the ink into it, then the thread.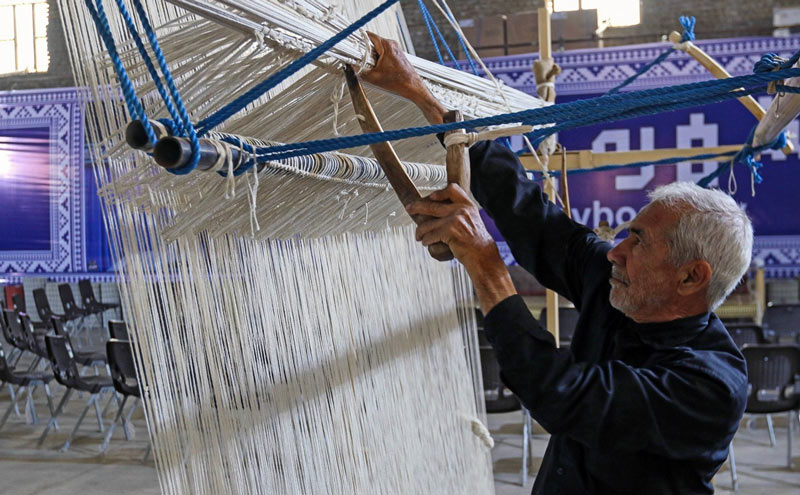 (Zillubafi in Meybod)
Where was the dyer?
The neighborhood was Firozabad and Beshnighan. In this neighborhood, we had a shop called Asadollah Rangriz; we called it " Sabbagh. " His son Mohammad was also a dyer. Nasrallah also had one. But it was not colorful. Muhammad knew he would paint until the end of his life. There were four brothers in Firozabad; all four were dyers.
Was there a lot of orange color during your time?
It was not orange at all, only blue and white. The Ardekan cultivated a type of cotton called " Meleh ". Mele himself had a natural color. How can I say the color of Meleh is a little yellow, neither sharp yellow nor white?
When you were a child, were there many Zillubafi machines in Beshnighan?
There were about ten or twelve teachers. Some had one or two, and some had three. Sometime later, the student became less. Everyone wanted to weave claws, but two people threaded each Zillu machine. Then we saw that the customer wanted a lot of work, so we went from Firozabad, Mahmoodabad, and Shork, brought the children and paid them to make panache.
How long did you work for your father?
When we were working at Zillubafi, we had three machines. I was with my father until I was 27 years old. Then I worked for myself. My father is weak. I worked for myself. The market became so good, and there were buyers that I got many students.
Where did your students come from?
I had it from Firozabad. I was shocked. I also had Mahmoodabad and Dehabad. I also had them from Deh Abad, and they are still there. They have two brothers, one named Yadullah, who used to come here and do some work by my father's side. He learned and became a teacher.
I once had 20 students a day. We used to weave from six to one meter, all color colors and had a shop outside of Yazd. Our ancestor was Isfahan because they wanted Zillu a lot from there, so he took his machine to weave there. Orders came from Qom and Shiraz. For example, they said, "Who is Zillubaf Meibod?" They used to write letters; there were fewer telephones in those days. If it were necessary, they would telegraph. The rest were letters and custom mail. They used to write twenty to thirty orders.
For example, It should be so tall and so many meters wide. We would weave, make bales with the machines that had just arrived in Meybod, and create bills of lading for Shiraz, Mashhad, etc. We once ordered between 2 and 3 thousand kilos of endowment Zilu. Then, the market gradually fell asleep.
After 40 years, the market fell asleep, and the number of customers decreased, the children left. Those days, they mostly go to Abadan and Kuwait. I also wanted to go to Kuwait for work.
Did you go to Kuwait?
Yes, I went. I only stayed for one year and three months.
In the 40s and 50s, were the new professors skilled?
Most of them knew only one pattern, and they were weaving. The students who had just learned the job couldn't wait to become complete masters because Zillubafi was very prosperous. At that time, people did not pay much attention to the map and bought Zillu for the floors of the rooms. Sometimes, the same young people made the wrong maps and could not correct the map and brought it to us to fix it for them.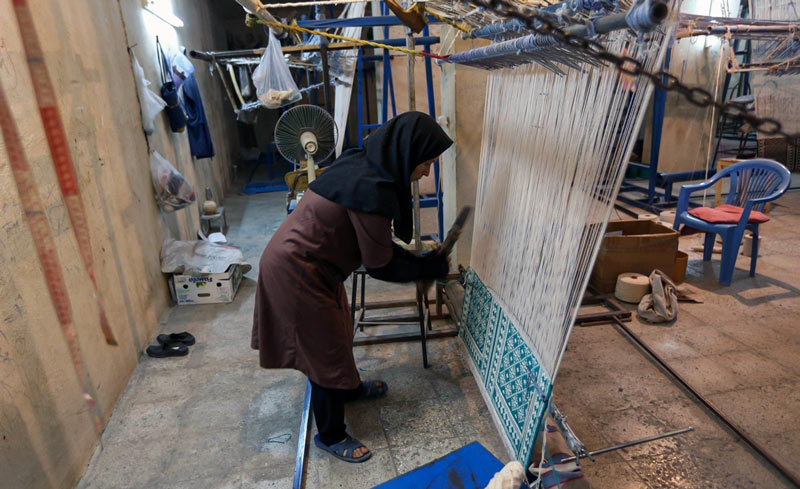 (Zillubafi in Meybod)
When you were a child, what was the main job in Beshnigan?
Beshnighan had little agriculture. All were Zillubaf. Firozabad were all farmers. Shurk were all farmers, and so was Mahmoudabad. Only the neighborhood above us was the main one; they were potters and potters; they didn't know anything other than that.
Zillu merchants mostly came from which areas?
Zillu business people were mostly Yazdi. There were only two people here, named Haji Gholam Hossein Malek and Sadeghian. When I was a child, we bought Zillu for them. I remember he gave tips when we took him, and we were happy with these tips.
Which teacher had the most enormous Zillu device?
The most significant device of the three was for my father. Its wood was approximately seven meters wide and six meters wide. The remaining machines were all small, from three meters to smaller.
Only your father had significant devices?
Why did they have other people? One was Rajab Haji Meybodi and Hassan Babai, whose father was Nasrullah Javad.
Did they do Zillubafi in Yazd?
Ninety years ago, my father was there for a period. My father weaves Zillubafi in Yazd for Mushir al-Mamalek. Mushir wanted a lot of Zillu for his house, so he took my father to Yazd to weave Zillu for him. My father explained that Moshir had made the machine himself and said I will provide the thread, the machine and the dyeing, and you just weave.
Did it become challenging to get the thread after the revolution?
Yes, it was a problem. As long as the government rationed, it was cheap and reached everyone. These threads, which the government gave, were from the Shah's warehouse.
They gave low prices to the people, and when it was over, they said it was no more. The import of yarn fell into the hands of merchants, and the price went up and up. After the revolution, everyone became a businessman.
Who made the Zillu device in Meybod?
The only place that made the machine was in Meybod. It was nowhere else. The name of the Zillu device maker was Haji Hossein.
Was Professor Haji Hossein from Firozabad?
No, it belonged to Boshneghian. When I was a child, he used to make machines for us. He was 90 years old at that time. He had a very thick body. It was essential. After he passed away, the work of making the machine fell asleep. No one knew how to make a machine. Other carpenters made the machine piece by piece in imitation of the devices made, but where is Haji Hossein's work, and where is the result of other carpenters? Haji Hossein was an expert; he had worked enough to become a full-fledged professor.