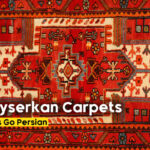 Tuyserkan Carpets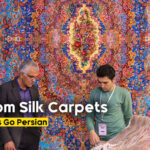 Getting to Know Qom Silk Carpets
Ardekan Carpets: Unveiling the Artistry
The art of weaving carpets or rug-making by hand is an ancient Iranian art that has captivated every observer's gaze from immemorial to the present. For centuries, every traveler who set foot in this ancient land, be it for trade, tourism, or exploration, has noted in their memories or travelogues the beautiful and eye-catching art named handwoven carpets, intricately woven with warp and weft and adorned with traditional and colorful patterns.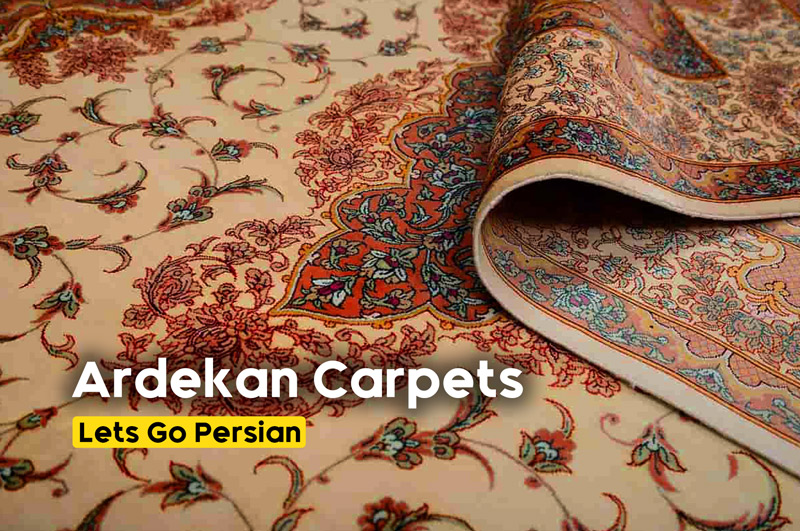 These beautiful patterns, often inspired by nature, can depict the region's wildlife where the carpet is woven, such as a lovely deer or gazelle surrounded by flowers and shrubs. However, most Iranian carpet patterns consist of beautiful blooms and shrubs intertwined with Islamic patterns, showcasing the handcrafted art of Iranians, with the most exquisite examples observable in Ardekan's handwoven carpets.
One can find ancient Iranian carpets in large museums worldwide. Today, people worldwide proudly display Iranian handwoven carpets as wall hangings, rugs, and large carpet pieces in their homes. Among these, Ardekan tableau carpets and rugs hold a special place.
Handwoven Carpets of Ardekan
Handwoven Iranian carpets are crafted in almost all regions of the country. Depending on the climatic conditions of each area, these carpets have their unique characteristics in terms of color, design, pattern, and the type of material used, distinguishing the carpets of each region from others.
In this regard, Yazd province is not deprived of this valuable art. The handwoven carpets of Yazd, especially those from Ardekan, are among the best in Iran in terms of design, pattern, and quality. When we look at carpet weaving in Yazd, the historic city of Ardekan stands out the most. Ardekan handwoven carpets have always had the potential to be exceptional in Yazd province due to their unique features.
History of Ardekan Carpets
Crafts such as Zilu, Zanjirbafi, and Karbas have a history of more than two centuries in Ardekan. However, the exact history of carpet weaving in Ardekan is unclear; some estimate its history to be around 150 years, while others believe that carpet weaving in Ardekan began in the early years of this century.
People of Ardekan say that systematic and organized carpet weaving started about a century ago in an ancient city called Charkhab. When the art of carpet weaving entered this city, Ardekan carpet weavers initially started their work under the supervision of Kermani masters. Interestingly, these artists were initially only men, gradually giving way to Ardekani women.
In any case, Ardekan handwoven carpets have found a good place among Iranian handwoven carpets due to their quality and high beauty in this relatively short period.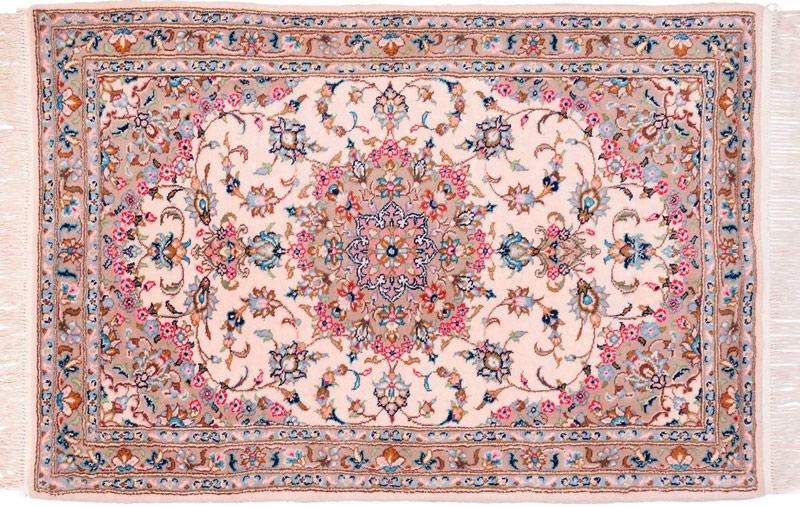 Quality and Craftsmanship of Ardekan Carpets
The quality and artistry of the people of this region have gradually risen to such an extent that, alongside Kashan and Tabriz carpets, which have always been among the best in Iran, Ardekan carpet patterns have a special place in all Iranian and even foreign stores.
Raw Materials of Ardekan Handwoven Carpets
From ancient times, Iranian carpets have always used the best natural raw materials, which is one of the secrets of the lasting nature of this ancient art in our country. These materials are mostly obtained from the traditional living environment of carpet weavers, and each thread is intricately woven with its warp and weft of life.
Ardekan carpets are no exception to this rule, and the predominant raw materials in this city are usually wool, Pile, natural silk, and cotton. This has made carpets from this region have good quality and reputation.
It is interesting to note that all the operations of spinning and dyeing the fibers in Ardekan are done in Ardekan itself and by traditional experts. In the past, these processes were entirely herbal and natural, but nowadays, chemical methods are also used in addition to traditional methods.
Warp and Weft of Ardekan Carpets
In Iranian carpets, fixed threads in the loom are called warp, and threads that firmly secure the roots are called weft. The warp and weft of Ardekan handwoven carpets are mostly made of cotton, while the raw material or Pile is made of wool, Pile, and silk.
Design and Pattern of Ardekan Carpets
With this account, carpet weaving in Ardekan began with Kermani and Yazdi patterns, and then Kashani patterns were woven in this region. However, these patterns were sometimes slightly altered by the taste and preferences of Ardekani artists, making them more distinctive to this region. For a while, Nain patterns entered this area, but ultimately, Kashan carpets have a special place in Ardekan in such a way that they are inseparable today.
Ardekan patterns primarily utilize some of the most original Iranian patterns, often intricate and beautiful, resembling hunting or subterranean motifs. Most of these patterns are Kashani designs, but some are known and recognized as Ardekan designs from ancient times.
This city has woven many patterns throughout different eras, including patterns like Lachak-Tarang of Kashan, Solar Tarang, almond and circle, Nain Tarang, Afshan, royal border patterns, Shah Abbasi, and…
Numerous patterns have been woven in this city throughout different eras, such as Lachak-Tarang of Kashan, Solar Tarang, almond and circle, Nain Tarang, Afshan, royal border patterns, Shah Abbasi, and…
Colors and Sizes in Ardekan Handwoven Carpets
Iranian handwoven carpets have always utilized diverse colors, primarily dependent on the region where they are crafted. These colors sometimes feature lively and eye-catching patterns on a dark background, while other times, they showcase designs with subtle colors on a light or combined experience.
The carpets in this city are generally produced in sixteen or seventeen colors, with their backgrounds woven in three primary colors: dark blue, Beige, and gray. However, shades of green, copper, turquoise, and earthy tones are also noticeable.
The sizes of handwoven carpets in Ardekan are ordinary, available in dimensions of twelve meters, six meters, smaller rugs, and runners. The size of these carpets is sometimes in the form of a runner.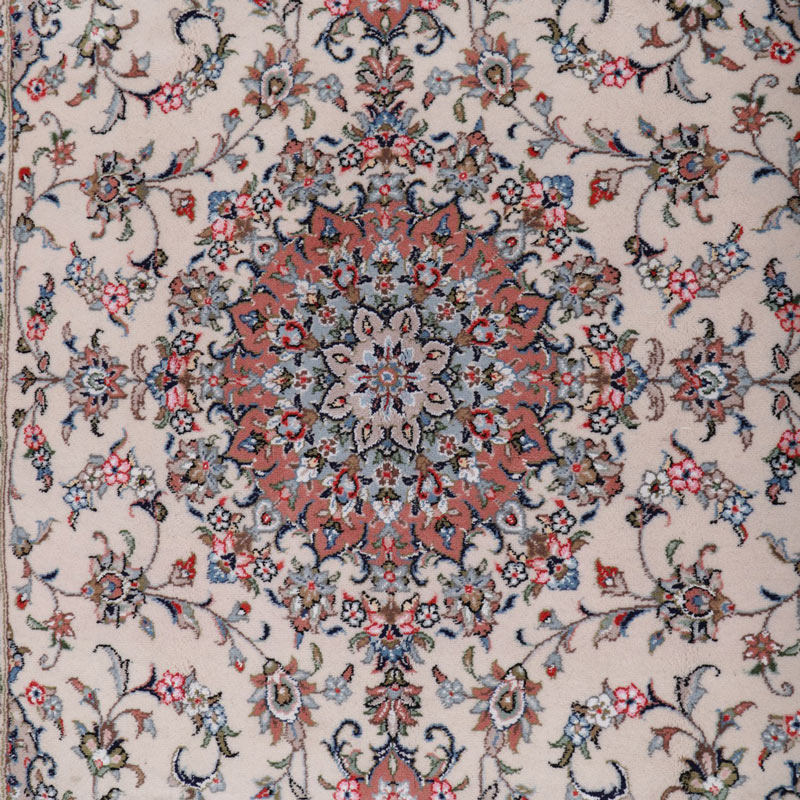 Features and Weaving Style of Ardekan Carpets
In Iran, carpet weaving is divided into three categories: tribal, village, and urban, each with distinctive characteristics. Ardekan is one of the ancient cities in the country; its carpet weaving falls into the urban category.
Ardekan carpets have a suitable density and are considered among the thick-piled category. While maintaining this thickness, a special delicacy is applied in their weaving. These carpets are all knotted and are regarded as a Derafshi model.
Another unique feature of the carpets of this city, which has classified them among the best Iranian carpets, is their weaving technique. Handwoven rugs must be flawless; the more this feature is present, the more valuable it holds. Experts consider Ardekan handwoven carpets free from any mistakes or unevenness, classifying them among the best in the country.
Regions of Ardekan Carpet Weaving
Ardekan has a population of about one hundred thousand people and is about sixty kilometers north of Yazd. In addition to the town, its patterns are woven into its suburbs. Regions such as Aghda, Ahmadabad, Torkabad, Khazaneq, and Meybod within the Yazd province produce Ardekan carpets. Moreover, other areas are not deprived of Ardekan carpet weaving. Regions in the southern part of the country and the eastern Sistan region, even in Hormozgan province, produce these carpets.
Production and Export of Ardekan Carpets
According to statistics obtained in Yazd province, about fifteen thousand people are members of the Handwoven Carpet Union. In addition to this, there are about forty thousand home-based weavers in Ardekan and Yazd province. In Ardekan, seven thousand square meters of carpets are produced annually, contributing significantly to both domestic consumption and earning foreign currency through exports to other countries.
Due to its high quality and distinctive features, these carpets have garnered many enthusiasts worldwide. Besides Persian Gulf countries, other customers worldwide seek Ardekan carpets. Countries such as Australia, Germany, Switzerland, and, most importantly, the United States are among the most significant demand markets for this product. Unfortunately, after recent sanctions, the export of these carpets has experienced a considerable reduction.
Ardekan Carpets as Cultural Heritage
Regrettably, in recent years, countries like China, Afghanistan, and India have copied the art of Ardekan and sold it in the global market, becoming one of the factors contributing to the decline in the export of this product. However, fortunately, this valuable art was registered as Iran's cultural heritage in the month of Day in the year 1394, leading to global recognition of Iran's art, especially that of Ardekan. Now, lost rights can be claimed from those who have copied these carpets.