Get to Know Kilim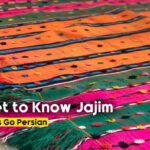 What do you know about Jajim?
Weaving Stories: The Unique Appeal of Gabbeh Carpets
What do you know about Gabbeh? Gabbeh is a handwoven textile with simple patterns and long piles, primarily used in cold mountainous regions. Gabbeh has a coarse texture, unlike fine rugs, and its long, soft fur is one of its distinctive features. For decades, it has not only been popular in various regions of our country but also among the people of countries such as Italy, Japan, Canada, Australia, Germany, Kuwait, Kenya, Iraq, Belgium, Qatar, Thailand, New Zealand, Bahrain, China, France, England, Afghanistan, Pakistan, India, and Denmark.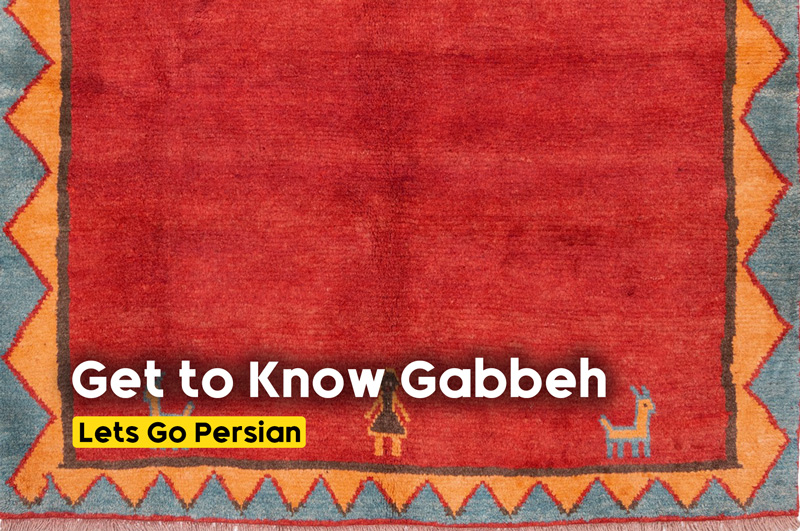 Until a few decades ago, skillful weavers weaved Gabbeh from the Qashqai, Bakhtiari, and even Azerbaijani tribes, known for its vibrant and glossy appearance and unmatched delicacy. However, its production spread to other regions, including Turkmen communities, over time due to increased demand.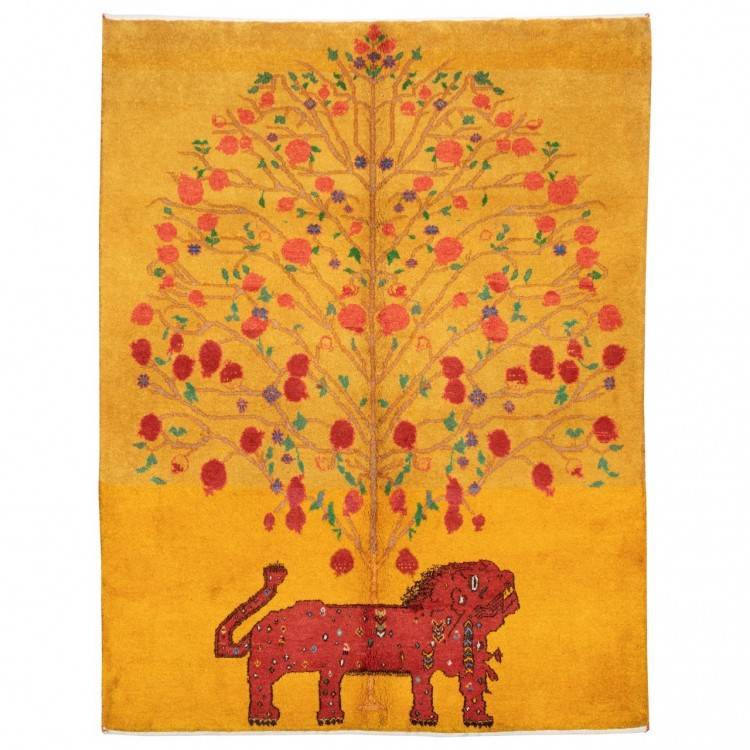 The simplicity of Gabbeh's patterns and the presence of some ancient motifs are unique features of this old textile, making it easier for designers. Gabbehs can generally match any color and pattern with various furniture, curtains, and other accessories, perhaps why more than 30 Eastern and Western countries use them for home and office interior design.
Gabbeh from the Past to the Present
Carpet experts believe that Gabbeh entered the lives of nomadic people before rugs. Nomads, who have been moving from one region to another for thousands of years, needed a soft and comfortable underlay for their tents in various weather conditions, whether hot or cold, snowy or rainy. They used their artistry and created a handwoven textile that could be woven in a few days, had a simple design, and, on the other hand, women who rocked it made beautiful motifs inspired by the animals and creatures around them. These motifs, such as the "cypress tree," which symbolizes life, or the "goat" motif, symbolizing rainfall, are still woven into Gabbehs.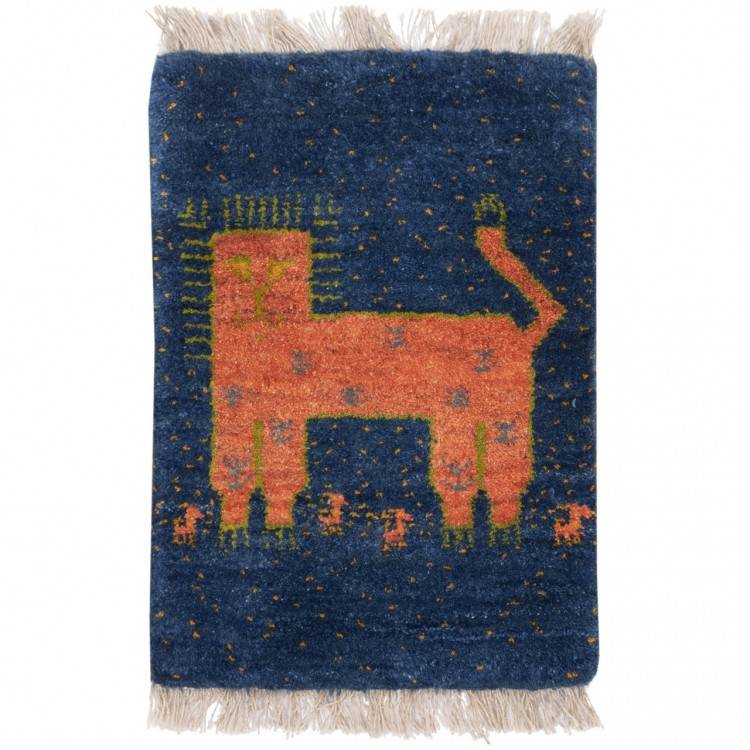 Gabbeh was commonly used in the past in nomadic and rural areas. Still, with its entry into the market and popularity among Scandinavian countries with frigid and harsh winters or the Japanese, who were always looking for a soft and colorful underlay, it found its way to re-recognition and consumption. It became one of the favorite handwoven textiles in the world. Until a few years ago, when Iranians did not pay much attention to this ancient textile when they discovered its inherent beauty, they also became fond of Gabbeh.
Uses of Gabbeh
Gabbeh has a long pile of wool, which is soft, and its height makes it attractive to families looking to furnish their homes with a simple and unique handwoven textile. In addition to this, Gabbeh can be coordinated with any taste. Still, one noteworthy point is that Gabbeh can benefit families with young children. When the floor of a child's room or living room is furnished with Gabbeh, it can prevent noise and, on the other hand, protect children from potential harm due to falling.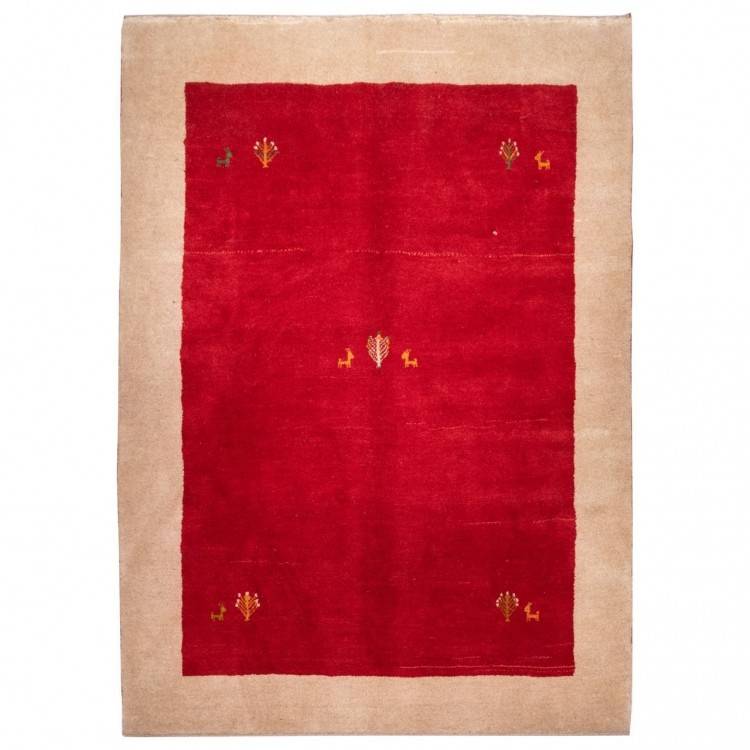 In addition to these advantages, Gabbeh can be matched with any taste. But one of the essential advantages of Gabbeh is its affordability compared to rugs. Gabbeh can be an excellent option for home furnishing, even in more than 6 square meters.
Types of Gabbeh in Terms of Weave and Material
Gabbehs are divided into two categories: handwoven and machine-made. Handwoven Gabbehs are made in a traditional and handwoven manner. On the other hand, producers of machine-made rugs, to reduce the price of floor coverings and increase their supply, produce machine-made Gabbehs using synthetic fibers and standardized methods.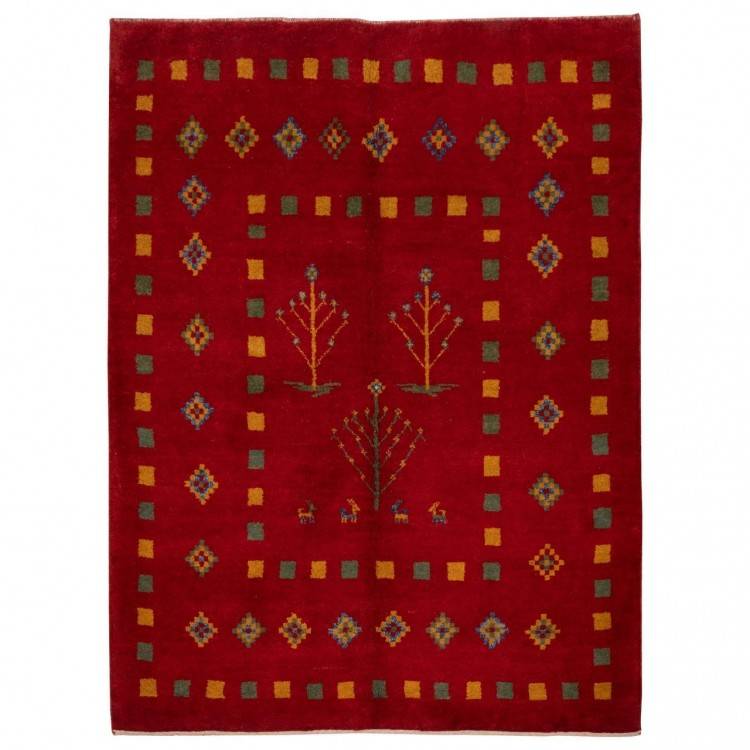 In machine-made Gabbehs, designers can change colors and motifs according to customer requirements. They can quickly produce Gabbehs tailored to customers' design, color, and dimension preferences.
What Gabbeh Should We Buy for Our Home?
For many enthusiasts of Gabbeh, the challenge lies in deciding which one to acquire and from where. However, there's no need to worry because Gabbehs generally complement various decors, whether your home is modern, classic, or traditional. This matter also somewhat depends on your taste in preferred patterns, colors, and dimensions.