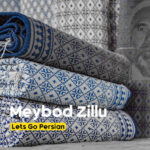 A conversation with one of the Zillubafi professors of Iran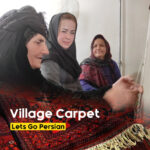 Village carpet from peak to decline
Passionate Turkish Carpet Seller's Love for Iranian Carpets
Iranian carpets; "They are lovely." One of the carpet traders in Istanbul Grand Bazaar said this short sentence. He constantly repeats the phrase " Iranian carpets are wonderful " in his conversations. 72-year-old Mehmet is so interested in Iranian carpets that few people would think a Turkish carpet seller would be so passionate about the handwoven of his neighboring country!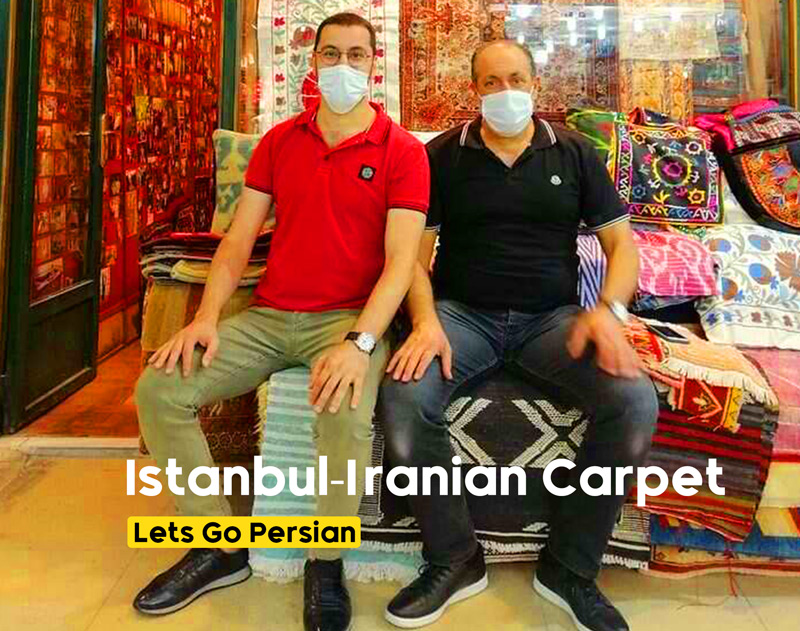 My conversation with this Turkish businessman started when a beautiful carpet of three bird ponds of the Il Khamse tribe of Fars province showed off in the window of his old shop. When I entered his shop, he was leaning on his chair and drinking tea.
One of the walls was full of small souvenir photos of tourists and foreign customers who had bought carpets and handwoven from him and his father over the past 70 years. When I told Mr. Mehmet, " Shiraz carpet, how much? " it fit, I gave more information about the carpet, and he invited me to tea with a warm smile.
Most of the carpets on the wall were Iranian, even the "Namakdan," depending on the wall above his grandson's head. I asked Mehmet Pasha, how much is that Tuzkabi ( Namakdan )? He laughed, Son, where did you get all this information? What is your job? When he realized I was a journalist, he nodded in satisfaction and said it was good that Iranian journalists know so much about carpets.
I offered him a conversation about Iranian carpets, and he gladly accepted. I sat on the old Baloch carpet spread over the carpets and asked about the rug.
When did you get to know the carpet?
My father, I, my son and my grandson are four generations intertwined with the love of carpets. Carpet means art; carpet means culture; carpet means life; carpet means love, which maybe not everyone can understand and experience. I got acquainted with carpets when I was a child when my father would spread the carpets he bought from different areas in the yard and check them carefully. A carpet seller must be familiar with different designs, and I got to know Iranian carpets through my father. I have to say that after all these years, I still don't know many Iranian carpet designs as much as they are diverse.
Do you think Iranian carpets are more diverse than Turkish carpets?
Yes, I think they are not comparable. Iranians have different areas of weaving with very different styles, such as Shiraz, Isfahan, Qom, Kashan, Tabriz, Mashhad, Bakhtiari, Turkmen, Baluch, etc. In the past, Iranian carpets had a lot of variety, but weaving in your country is not the same as before.
From your point of view, what is the position of Iranian carpets among the countries with carpet art and culture in the world?
There have always been differences of opinion between whether Turkey or Iran is the origin of carpets. Still, in my opinion, Iranians have always been different from others, and their carpets surprise carpet lovers worldwide. The rugs woven during the Safavid era, Silk carpets or carpets woven with gold and silver thread, are excellent. One is fascinated by this art. It is impossible to compete with Iranians in the field of design.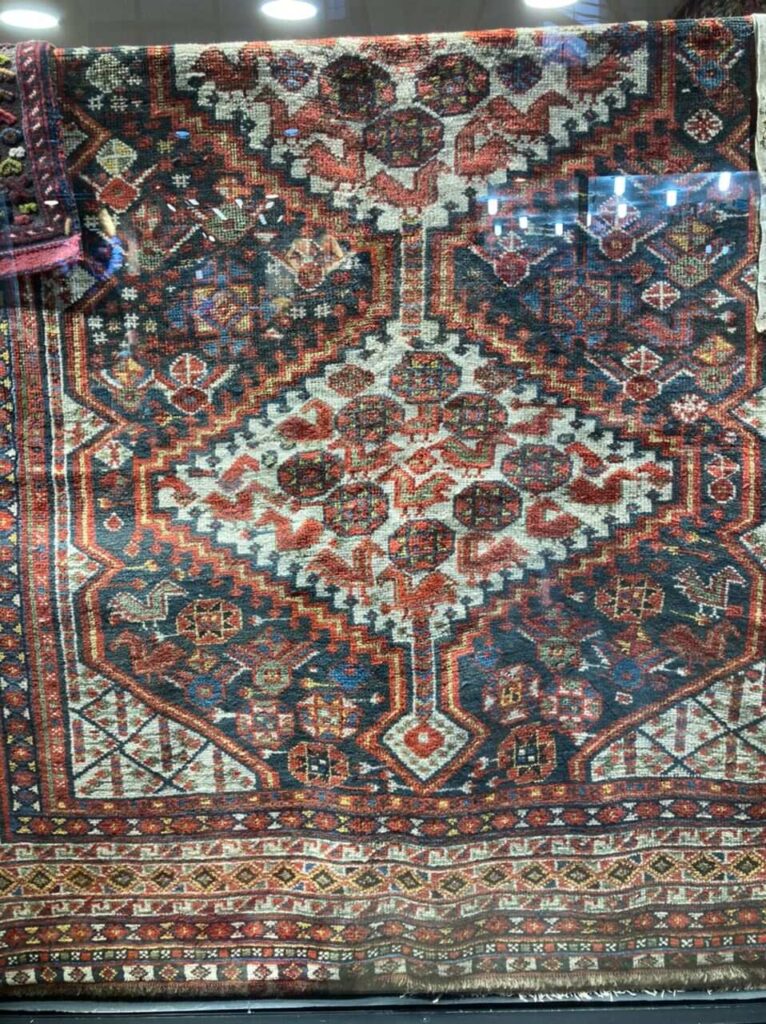 (carpet with the map of the three bird ponds)
What designs of Iranian carpets are you interested in?
This is a tricky question. Iranians are master craftsmen who design unique maps. I like the urban carpets of Qom, Kashan and Isfahan. I like Hamedan village carpets and Shiraz or Afshar nomadic carpets. They are great.
Traveled to Iran?
I have been to Iran several times. I also have friends there. If Corona disappears, I will go to Iran again. The carpets I see in the markets of Tehran, Tabriz, Qom and Isfahan give me energy. I hope to be able to travel again.
The carpets in your shop from Iran?
Some were sent to me from Iran, but we bought some from Germany. Iranians can no longer sell carpets like in the past because of the sanctions; on the other hand, they cannot return old and antique rugs to their country due to customs and must sell them at a low price. This is an excellent opportunity to buy.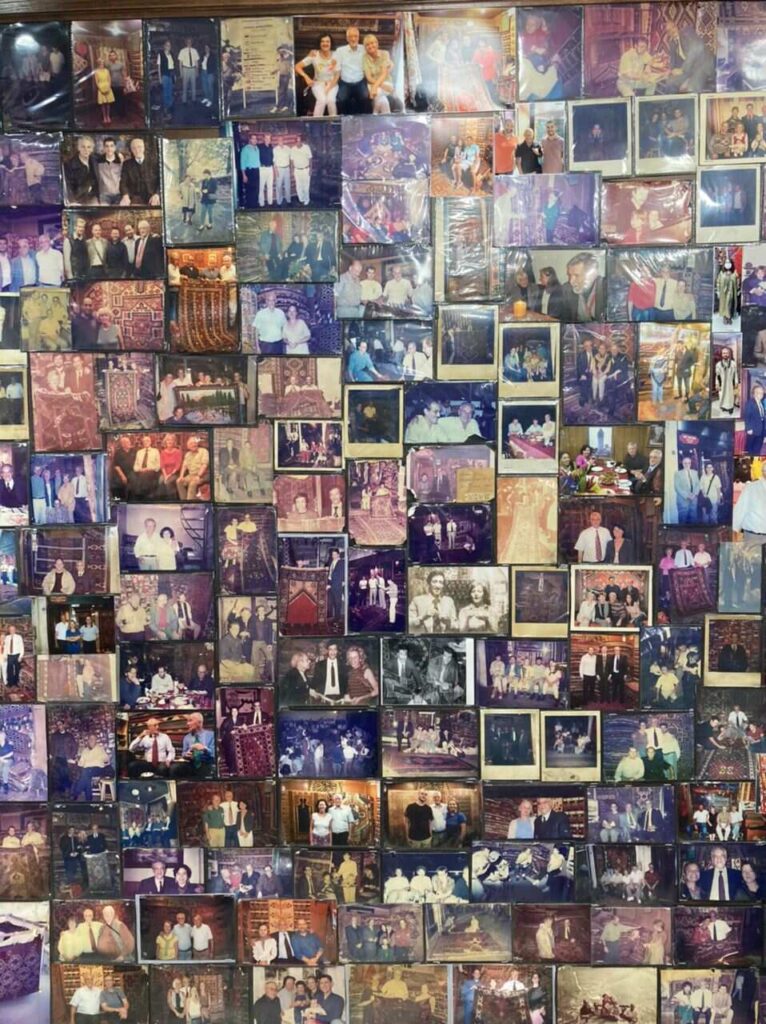 Are carpet designers and restorers from Iran working in Istanbul?
A restorer and restorer came here from Iran to your heart's desire. The working conditions in Istanbul are better than in Tehran because many old used and antique carpets are brought here for repair, and the conditions are ready for Iranian restorers to earn money. I think this was an opportunity that Iranians themselves have missed to bring antique carpets to their country.
Most of your customers are from which countries, and do you tell them that the carpet they like is Iranian?
Istanbul Bazaar is a historical market that has many visitors. Meanwhile, many tourists visit the carpets. Usually, those who buy rugs or handwoven are from European, American and Russian countries. I explain to them about the carpet, and if the carpet they like is Iranian, I will say that it is Iranian because Iranian rug is one of the most famous carpets in the world.
At the end of the interview, a young couple who appear to be Russians enter the shop and ask about the carpet in the window, the same carpet with the map of the three bird ponds, and Mehmet Pasha's grandson tells them about the carpet in English and tells them about it. He shows and says that this gentleman knows the rug well and that you can ask him for help.
It's time to go. Mehmet and his grandson escort me to the front of the shop. I walk a few steps and see the birds of Hoz Farsh for the last time, the 130-year-old birds staring at the passers-by under the solid yellow light of the window.
Photo and report by Hamid Hajipour