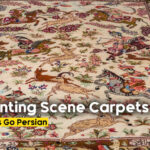 Exploring the Design and Pattern of Hunting Scene Carpets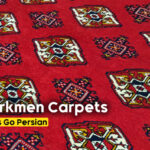 Let's Get to Know the Turkmen Pattern
Weaving Nature: Tree Patterns in Iranian Carpets
The tree pattern is one of the most famous Iranian designs, which finds its most significant application in the art and industry of carpet weaving, especially handwoven carpets. Various patterns and designs in Iranian carpet weaving have been noticed for their specific patterns and designs since ancient times, attracting many individuals to purchase mats with these designs. Islamic practices, Beteh Jeqeh (Paisley), Shah Abbasi, Afshan, Shikargah, Turkmen or Bukhara, Qaabi, Mahi Darham, Gol Farang, Mihrabi, Golvani, Mahramati, Ili, geometric patterns, and more are among the famous designs used in Iranian carpets. Despite some similarities with other ways, the tree pattern has unique and distinct characteristics, which we will explore further below.
The Tree Pattern and Its Features
Branches and leaves form the basis of Iranian carpet design, so in tree patterns, efforts are made to preserve a strong connection with nature. In many tree patterns, the main composition consists of trees and small and large shrubs, often individually depicted and sometimes combined with other elements. Some of the most crucial tree patterns include:
Animal-themed tree pattern
Sabzikari or fountain tree pattern
Orange tree pattern
Cypress tree pattern
Potted tree pattern
"The tree plays a central and authentic role in the tree pattern and design. The tree used in this type of background is not of a single type or size; rather, it exists in various types and sizes. Some are employed as the main pattern in the background. In contrast, others appear in different sizes, serving as the main pattern and complementary motifs in the borders and margins of the background carpet. Sometimes, the tree encircles the background of the carpet."
In some tree patterns, branches, leaves, and fruits are present, while in others, they may be devoid of fruits. Trees may be seen inside a pot, and banks may not exist in some patterns. Commonly used trees and motifs in this pattern include cypress, pine, willow, and other trees with flowers, fruits, and leaves.
Each tree used in the design symbolizes something specific. For example, if a cypress tree is used in the pattern, it represents tall stature and steadfastness; the willow bends gracefully, and the walnut signifies a long life.
The Mihrabi Tree Pattern
As mentioned, there are various types of tree patterns, and one of the types widely used in carpet weaving is the Mihrabi tree pattern. In this pattern, there is a Mihrab arch, and beneath this arch, various trees are depicted. The most commonly used trees under this Mihrab arch include pine, willow, and cypress. This pattern is considered one of the authentic designs used since ancient times, especially in the Islamic period.
Animal-themed Tree Pattern
Another type of tree pattern is the animal-themed pattern. In this pattern, trees are depicted with abundant branches and leaves, serving as the primary focus. It is called animal-themed because motifs such as leopards, lions, deer, and birds can be seen around this pattern. The animal elements in this pattern lack symmetry, and their arrangement does not follow a strict order. Unlike other tree patterns, this tree pattern does not have a long history and is sometimes called the forest tree pattern.
Lachak and Taranj Tree Pattern
The Lachak and Taranj tree pattern is another type of tree pattern that encompasses the main text of the carpet. This tree pattern may come in various sizes and dimensions, often positioned adjacent to other designs with different decorations. This pattern may be placed outside or inside the diamond or Taranj frame.
Cypress Tree Pattern
As the name suggests, the cypress tree takes center stage in this pattern. The beautiful design of this motif is attributed to the skilled designers of Kerman and Bakhtiari, who expertly execute its strategy. In the ways used for Kerman carpets, one or more cypress trees may be present, either within the text or on the border, as a continuous and aesthetically pleasing design. Also, in patterns drawn for Bakhtiari carpets, this pattern appears inside diamond or rectangular frames, continuously and repetitively displaying attractive and recurring colors. Notably, Kerman, Bakhtiarii, and other carpet designers use the cypress tree pattern.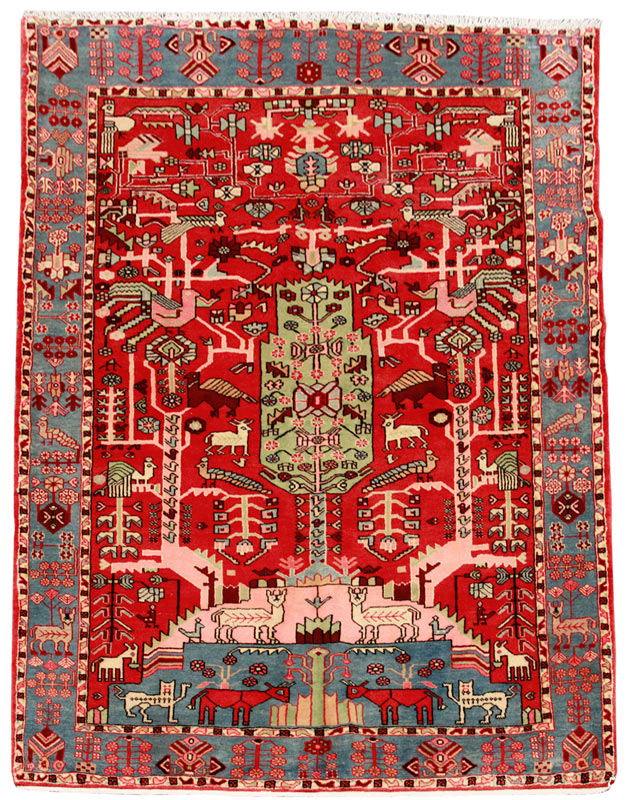 Greenery Work Tree Pattern
The greenery work tree pattern consists of branches filled with flowers and leaves, covering the entire carpet and leaving minimal space. The expansiveness of this pattern is such that, in some cases, these patterns have no borders, and no margin is seen in their structure. In some of the tree patterns with greenery work, where orange is at the center, images representing water and a stream are used inside squares and rectangles, along with other ways, a design referred to as the greenery work water-themed pattern. The greenery work tree pattern is specific to the Kerman region. It is used by designers in that region, with its most famous version belonging to the city of Ravar in Kerman.