Revive Your Carpets Like New!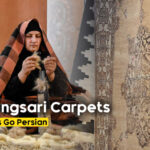 Khodrang Sangsari Carpets
The Timeless Beauty of Arab Nomadic Carpet Artistry
The art of carpet weaving among the Arab nomadic tribes is primarily practiced by the "Jabareh" tribe, making Arab Sheybani rug weaving quite rare. Various tribes, including the Mazidi, Ghani, Lawardani, and Abolmohamadi, which until a few decades ago produced excellent rugs, and nomadic tribes such as Koochi, Shiri, Derazi, and Pirsalami, which contribute significantly to Arab carpet production, all belong to the Jabareh.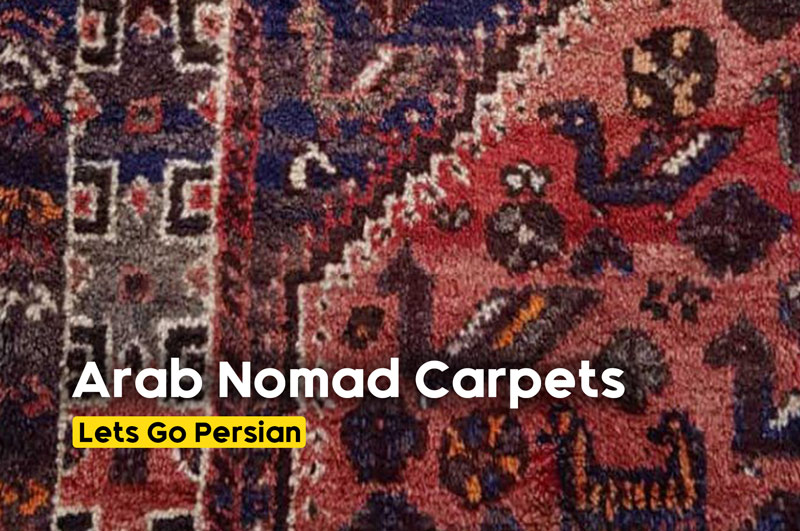 According to the oldest writings and accounts by Muslim historians and geographers, Arab tribes of Persia were the largest population of nomads in the land of Persia in the fourth century after the migration. Arab Persians, like Turkish-speaking tribes such as Baharloo and Enanloo, have abandoned kilim weaving for years, focusing mainly on carpet weaving and occasionally needlework. Most Arab carpets are woven with symmetric knots, using all-natural wool without silk or artificial fibers.
Their wefts are always paired, mostly in shades of burnt red, occasionally brown, and rarely pink. The wool used by most tribes is fine and lustrous, and the finest Arab handwoven carpets are comparable in terms of transparency to the finest Neyriz and Bavanat carpets.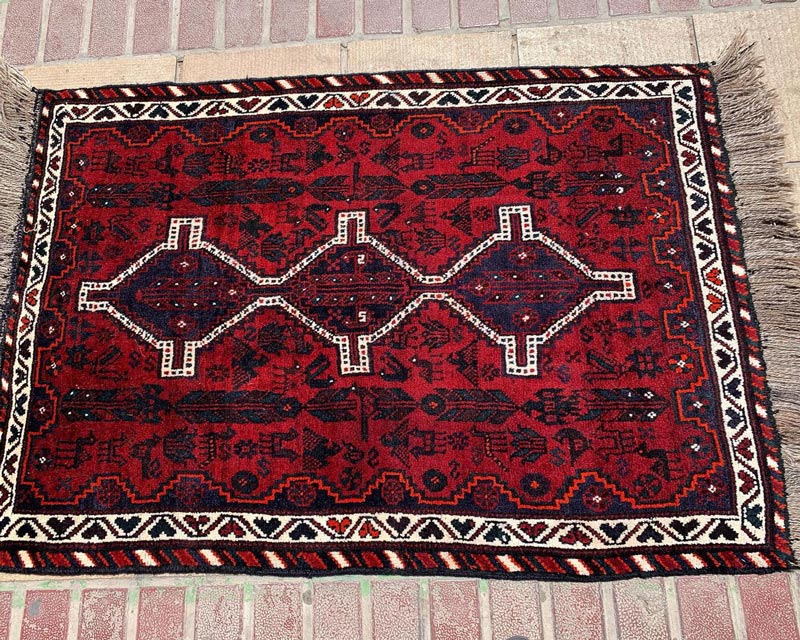 While the most exquisite examples of Arab nomadic carpet weaving may not match the prestige of Kashan or Baharloo rugs, their artistic qualities, known as Arab carpets, are significant. It is worth noting that, unlike Turkish nomads, Arab nomads did not practice carpet weaving before the arrival of the Turks in Persia and learned everything from the people of Persia.
Considering this historical fact and the fact that Arabs arrived in Persia centuries before the Turks, Arab weavers should be recognized as heirs to the ancient traditions of Persian carpet weaving, just like the weavers of Neyriz, Bavanat, Luri, Basiri, Ghonghori, and Dasht-e-Chahardangeh nomads.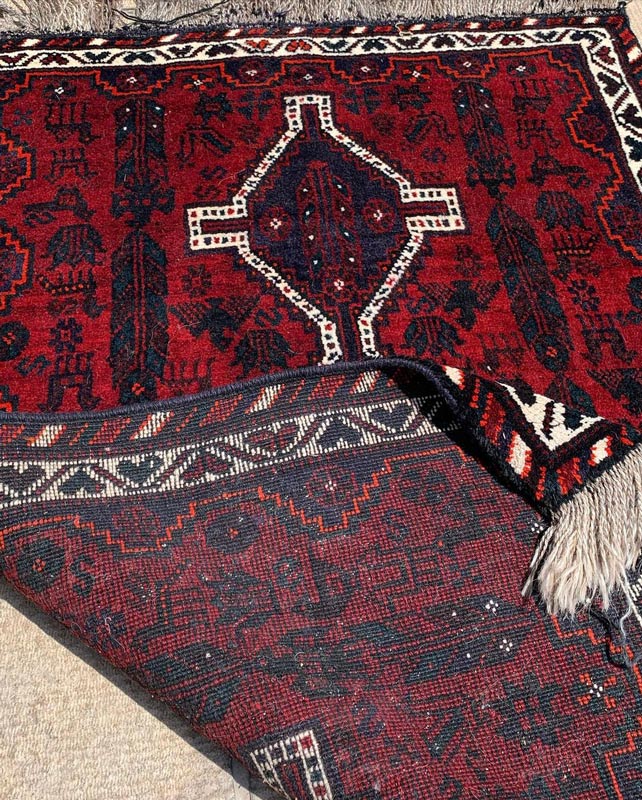 For this reason, many lost and broken links in the evolution and development of ancient motifs in Arab weavings must be explored.
The most prominent link in this disconnected chain is bird motifs, which, along with Baharloo and Enanloo carpets, have introduced us to a world of vibrant colors beyond the geometric patterns and Qashqai designs. This world has emerged from the movements of colorful birds. These birds have been flying since the dawn of Iranian history and beyond the darkness before history, surviving the transformation of their wings into flowers and plants.
The most prevalent use of bird motifs in Arab tribal rugs is as bird and tree motifs, often individually and occasionally continuously and chain-like, accompanied by four-legged horse-like birds that trace their origins back to the legends of ancient Iran's first millennium.
The other is their marginal role, known as the "step" that takes us to the world of the first millennium BC and perhaps to the Elamite ziggurats of the second millennium.
One of the distinctive features of Arab Persian women's designs is a tendency toward jungle motifs teeming with flowers, plants, and animals, avoiding geometric patterns like "Mahramat" designs. Another characteristic in some tribes, like Ghani and Abolmohamadi, is a preference for nearly square sizes instead of the conventional rectangular ones. Recently, rug collectors in the West have tali square or semi-square rugs.
Dyeing the carpets of the Arab nomads
The most notable characteristic of Arab nomadic carpet weaving that sets it apart from other Persian weavers is its affinity for dark colors. The accumulation of dark colors and wefts one upon the other and intertwining dark motifs with dark colors, incredibly the "dark on dark" coloring technique, is the hallmark of most Arab tribal weavings.
It's not uncommon to find Arab carpets with navy backgrounds featuring dark motifs in shades of jasper, dark brown, maroon, and even burgundy to the extent that many motifs can't be readily distinguished from the background.
Even when the carpet background is light in color, the density of dark motifs is such that the overall appearance is predominantly dark and dense. The richness and luxury of many Arab tribal carpets result from their dedication to dark colors.
This preference for dark designs may reflect a particular mindset and worldview, reflecting the harsh and frugal life of the Arab nomads, which is worthy of anthropological and tribal psychological analysis.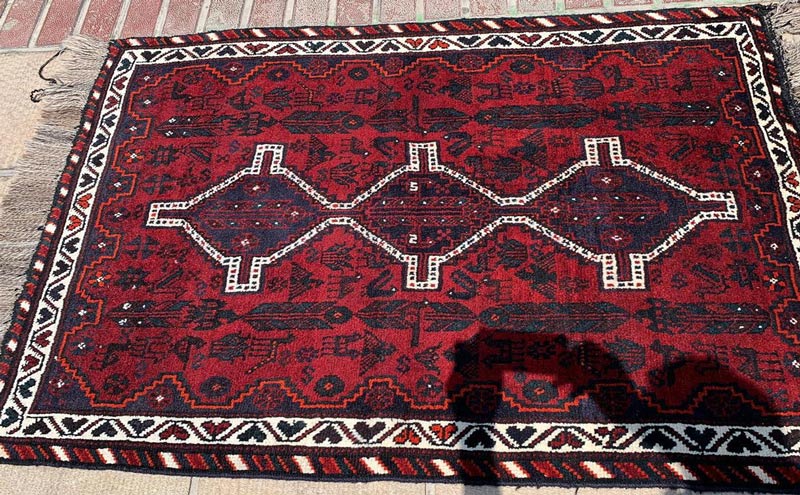 Most Arab nomadic rugs have over ninety-five percent dark blue backgrounds, with approximately two percent burnt red sets, about one percent in shades of turquoise and less than one percent Turquoise. To date, no Arab rug with green or red designs has been found unless woven by Arab women with designs and coloring other than those of nomads and villagers.