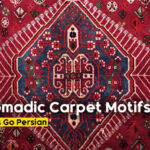 The concept of motifs in handwoven nomadic carpets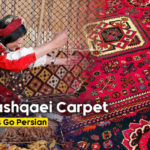 Introduction to Qashqai Carpets
The Artistry of Kashan Carpets: History and Characteristics
Kashan, a city geographically located in the heart of Iran, lies to the south of the salt desert and Qom Lake, approximately 250 kilometers away from Tehran. The city's name has evolved, originally stemming from the settlement of the Kassites tribes, which transformed it into Kasian and Kashian before finally adopting the name Kashan.
Historical evidence indicates that Kashan was renowned for producing precious fabrics in ancient times. It can be considered the heir to a legacy of various textiles, including velvet, satin, and taffeta, collectively known as Hormazi fabrics. These fabrics gained significant recognition worldwide. Historical figures like Marco Polo, Chevalier Chardin, and Antoine Shirley have lauded Kashan's contributions to the textile, rug, and carpet industries.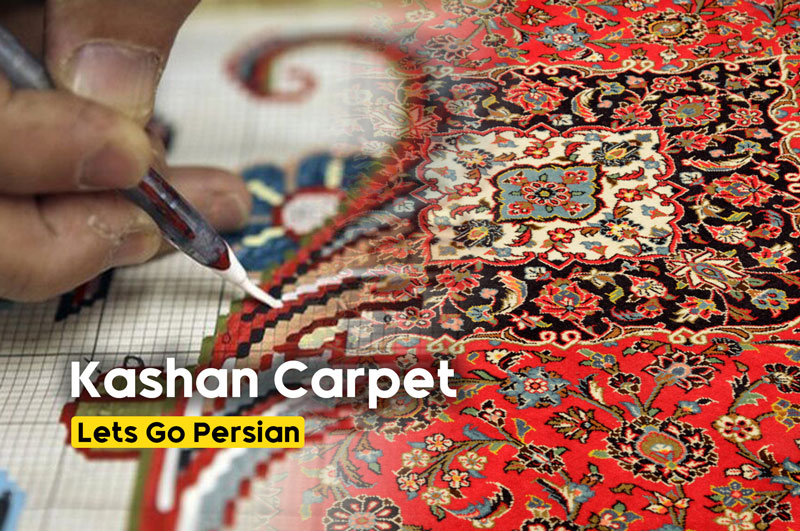 Kashan boasts a remarkable history of carpet production, including exquisite carpets from the Safavid era, now preserved in museums and private collections. The city is mainly associated with creating silver-woven(Simbaaf) and gold-woven (Zarbaaf) silk carpets, also known as Shah Abbasi.
Despite facing challenges such as tribal invasions and Mongol and Afghan conquests, Kashan has played a pivotal role in rejuvenating Iran's artistic life through its carpet and rug production. The carpets woven in Kashan can be categorized into distinct styles, including Kashan, Natanz, and Joshghan products.
The city boasts numerous master artisans in carpet weaving, such as Mirza Nasrallah, Afsari master, Karimpour master, Esfahanian, and Taqdisi master, who have contributed significantly to the art.
In addition to its hand-woven carpets, Kashan is renowned for producing machine-made carpets. Industrial carpet production in Kashan began in 1365, establishing over 600 large and small carpet production units in the city. These units compete with other regions in producing carpets. Like other regions of Iran, Kashan carpets offer a more affordable option than hand-woven counterparts, owing to faster production and the materials used.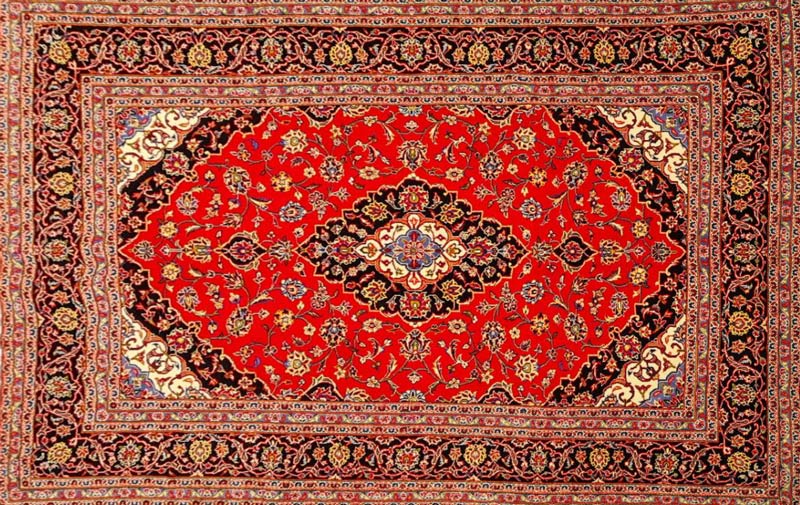 (Kashan Carpet)
Structure and Characteristics of Kashan Carpets
Kashan carpets predominantly use wool sourced from herds in cities like Khorasan, Azerbaijan, Kermanshah, and Tehran. The length of the carpet piles varies across different Kashan carpets. For instance, Kashan's wool carpets have an average pile length, while village carpets from Kashan, known as Aran, often feature longer piles and a more comprehensive array of primary colors.
Kashan carpets mainly use cotton yarn as a weft and only use silk thread in excellent carpet weaving. Structurally, the weft below in these carpets is thicker than the upper weft, and two types of Kashani yarn with the names urban and Isfahani are used for this purpose. The main difference between these two types of yarn is their thickness, so the weft of 10 lais Isfahan is equivalent to 12 lais in urban.
One of the defining characteristics of Kashan carpets is their delicate texture, allowing intricate patterns to stand out, along with a velvety surface achieved through Merino wool. A Kashan resident's introduction of Australian wool led to the production of diverse carpet styles.
Distinctive Features of Kashan Carpets
The intricate and delicate texture of Kashan carpets enhances the visibility of their patterns, lending them an appealing aesthetic.
Kashan carpets often feature lacquered backgrounds with decorative borders, a common characteristic.
Kashan carpets typically have a low knot count, ranging between 30 and 45 rows per inch.
Traditional sizes have been a hallmark of Kashan carpets throughout history, although contemporary variations come in different dimensions.
White slimes are commonly found along the edges of Kashan carpets.
Designs in Kashan Carpets
Kashan carpets share design similarities with the urban maps of Isfahan, influenced by the revolving design and flexibility of Isfahan Toranj. However, they lack the same elegance and precision, often featuring a reduced color palette. While historical Kashan carpets incorporate motifs of birds, contemporary designs often include the Shah Abbasi flower design.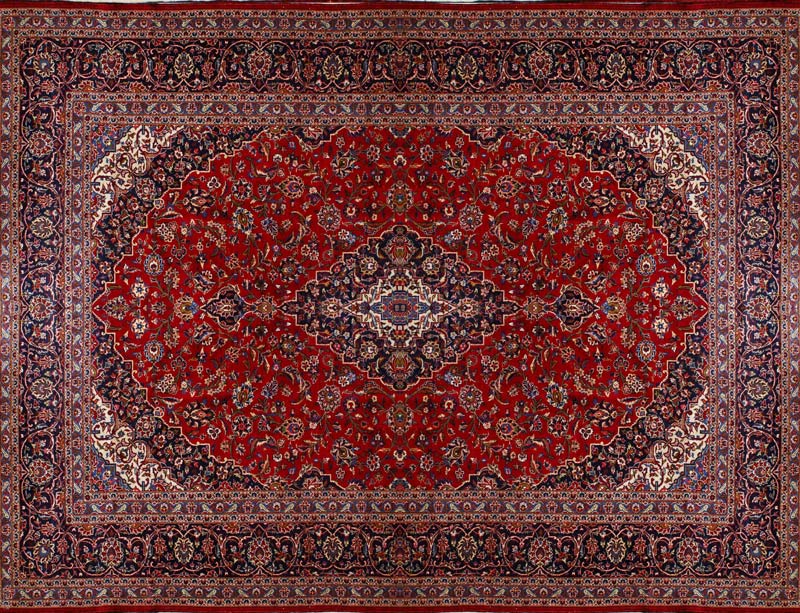 (Kashan Carpet)
Notable Kashan Carpet Designs
Toranj
The Altar
Mohtsham Kashan
Kashan Vase and Tree
Hunting Ground, Animal
Paisley Kashan
Sajjadei (Prayer Rug) Kashan
Kashan Five-Color Carpet
Regarding colors, historical Kashan carpets utilized vivid and high-contrast color palettes, whereas modern versions employ softer tones to cater to market preferences.
Crafts Related to Kashan Carpet Weaving
Dyeing is one of the handicrafts related to Kashan carpet weaving, which is as old as textile, and today its traditional method is mainly obsolete.
Darning
Cotton beating
Spinning
Warp winder
Developing actual design
In conclusion, Kashan has been home to accomplished carpet drawing artists like Mirza Ahmad, Mirza Ali Akbar Naqash, Seyed Reza Khan Sanei, Mirza Nasrullah Khan, Dabir Sanaye, and Nezam Afsari Afsari, whose works are admired and appreciated both domestically and internationally.