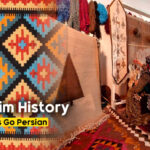 Kilim Weaving and Its Ancient Origins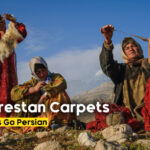 Luristan Carpet Weaving
As you may know, carpet weaving and carpet-making in Iran are considered rich and valuable. For many years, Iranian carpets' existing patterns and designs have been used in various fields, such as decoration, clothing design, and architecture.
One of the artistic fields closely connected to carpet art is architecture. It is impossible to separate architecture and carpet art, especially in Iran. All the patterns and designs found in Iranian carpets can be observed in various aspects of Iranian and Islamic architecture, where these patterns have been transformed into intricate details.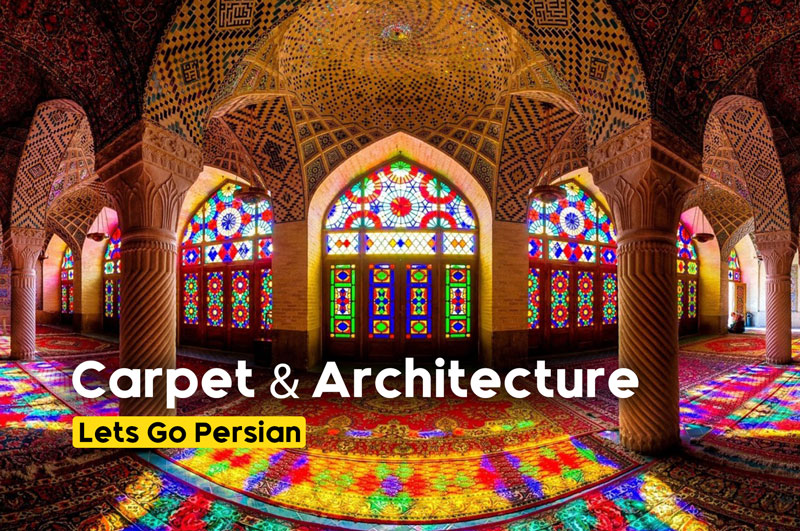 These patterns can also be found in Islamic architecture with religious meanings. The influence of using carpet patterns in architecture can be traced back in time and is still evident in contemporary architecture. The most common carpet patterns used in architecture include Islamic, Boteh (paisley), Gol-o-Bolbol (flower and nightingale), and Afshan (sprinkled).
Islamic (Eslimi) Patterns in Architecture
Islamic patterns are recognized for their presence of branches and various forms resembling leaves and buds. Over time, these patterns have expanded into multiple subtypes, including Eslimi broken, Islamic trellis, Eslimi lattice, Eslimi dragon mouth, Eslimi checkered, and more. These patterns are composed of branches that are positioned between leaves and buds. These branches are considered abstractions of tree branches.
One of the most notable architectural achievements inspired by these patterns is the Mausoleum of Hakim Omar Khayyam, designed by Hossein Sihoun in 1959. This remarkable structure features a circular base divided into ten sections, and the memorial tower is constructed upon these ten pillars. 10 represents the first two-digit number and is the foundation for many other numbers. Each of these pillars has two inclined blades moving upwards, and their intersection creates the overall volume of the tower in space. Eventually, the blades' collision forms ten large lozenges filled with ceramic tile work.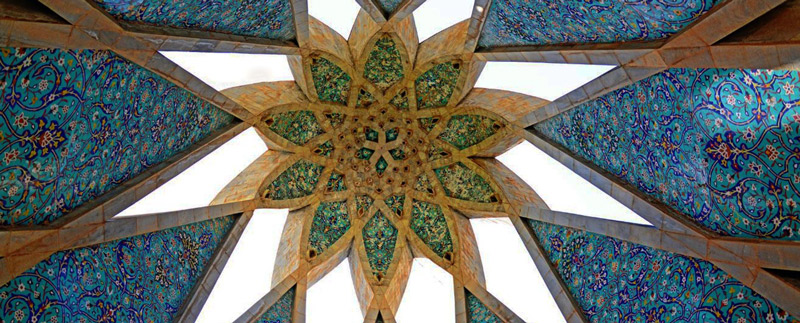 (Tomb of Hakim Omar Khayyam)
Vase Patterns in Architecture
As the name suggests, the Vase (Goldani) pattern resembles different sizes of vases, and you can observe it in various forms. This pattern may consist of a large vase or several smaller ones placed symmetrically around the carpet or following each other throughout the carpet's design. Like different patterns, this pattern has multiple variations, including Mehrabi Vase, Khotaei Vase, one-sided Vase, comprehensive Vase, and many other diverse styles. The use of this pattern in traditional and Islamic architecture has added distinctive and beautiful touches to these structures.
Afshan Patterns in Architecture
The Afshan design lacks discernible motifs like trellises, Lachak, frames (Ghab), or prominent elements that visually attract the viewer. In essence, all the patterns in this design are arranged in a way that does not distinguish any pattern from another. It gives the impression that the designer scattered these patterns randomly across the carpet without any predetermined plan or design. This feature creates a sense of an unknown source and origin in the viewer's eyes.
Pattern replication and inspiration from the Afshan design in architecture have led to continuous changes in architectural styles. This has even given rise to modern houses with limited and unconventional spaces. It's worth noting that in most Afshan patterns, the primary flowers are larger, which magnifies the overall grandeur and vastness of the desired length.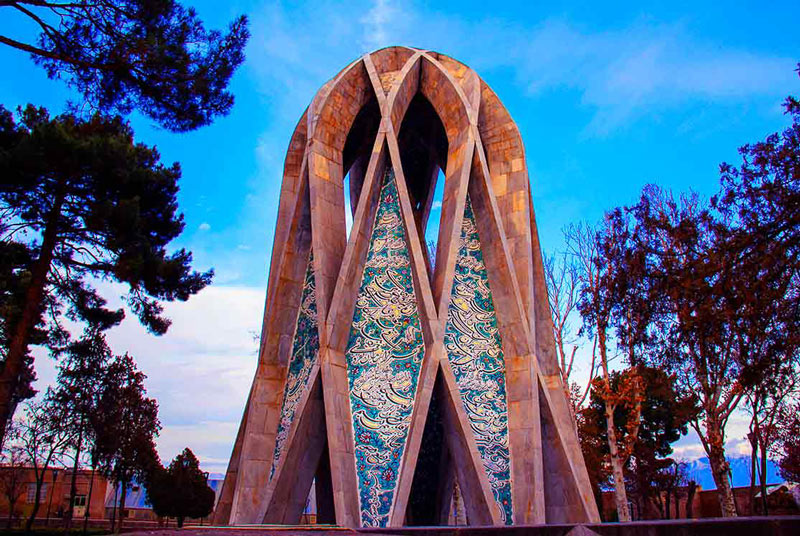 (Tomb of Hakim Omar Khayyam)
Boteh (Plant) Patterns in Architecture
Most Iranians are likely familiar with this pattern. The Boteh pattern is essentially an abstraction of the cypress tree, and it is often seen in the form of upright cypress trees known as Boteh Jegheh. These patterns come in various shapes, such as Boteh Jegheh (Paisley), Boteh Kharqi, Eight Flowers, Boteh Lachak Toranj, Boteh Afshari, Boteh Termeh, Kurdish Boteh, and many other diverse styles.
The most remarkable architectural work inspired by this pattern can be identified as the Kamal al-Molk Mausoleum. This structure, designed by Hossein Sihoun in 1963, features a voluminous design created from intersecting arches. While this building resembles the mausoleum of "Attar," the critical difference lies in its tilework, which is entirely inspired by the Boteh patterns.
In conclusion, intelligently incorporating the patterns and designs of Iranian carpets into architecture has led to beautiful and meaningful architectural accomplishments. It's safe to say that these valuable architectural works have been a source of pride for everyone from the past to the present.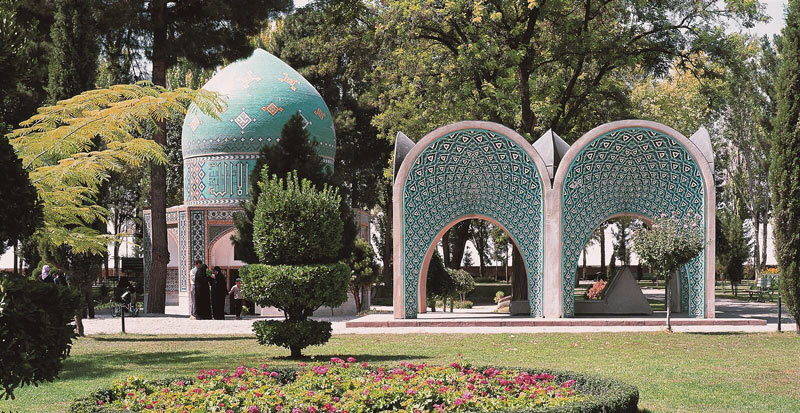 (Kamal al-Molk Mausoleum)