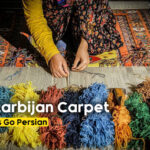 Introduction to Azerbaijani Carpet Weaving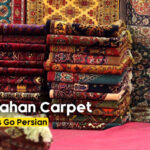 Introduction to Isfahan Carpets
Persian Elegance on the Floor: Kerman Carpet Aesthetics
Kerman carpets boast a rich history, with their designs, colors, and patterns catering to the preferences and demands of Europeans. They have long been one of the country's central hubs of carpet weaving.
Among the claims asserting that Kerman carpets originated from the textile industry, especially shawl weaving, their existence spans nearly four centuries. Examining the patterns and weaving characteristics of Kerman carpets suggests a history dating back at least a thousand years.
The oldest type of knotted pile used in textured carpets, known today as the "un-knotted" technique, sadly attests to the decline in the quality of modern Kerman carpets. This technique, once a hallmark of ancient carpet weaving in Kerman, has suffered due to contemporary manufacturing practices.
Many ancient Iranian carpets were woven using the U or V knot technique, a style evident in the carpets of ancient Egypt, influenced by Iranian designs. Additionally, the use of three wefts between each two rows of knots, a characteristic of old Iranian carpets, is prominently featured in Kerman carpets, especially in the famous Pazi-baft carpets.
Despite wars and other challenges, remnants of the earliest vertical loom beams in the knotted pile carpet weaving can still be found in some areas of Kerman. Beyond these technical aspects, the presence of skilled designers and artists designing carpets, miniatures, and more since the early Qajar period adds to the depth and longevity of Kerman's carpet-weaving heritage.
The region also has a rich history of dyeing and weaving. In the past, Kerman was renowned for its textile production, especially during the Safavid era. Despite setbacks in raw material production, particularly silk, and a general decline in Iran's textile industry after the fall of the Safavid dynasty, Kerman remained a significant center for producing various textiles, especially silk shawls.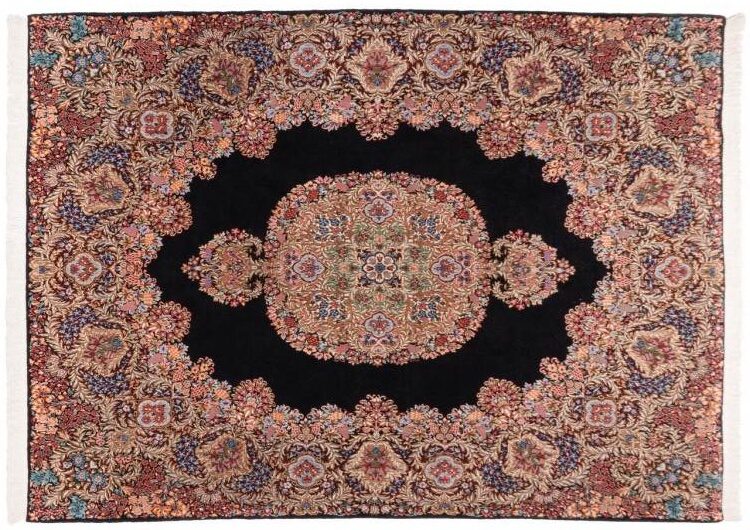 Recently, there has been a renewed focus on the art of textile weaving, primarily driven by the development of the carpet weaving industry in the province. The 20th century witnessed the peak of this art form.
Major Centers of Kerman Carpet Weaving
All carpets in the Kerman province can be categorized into urban-woven and tribal-woven rugs. Kerman and Sirjan are the leading centers for urban-woven rugs, while Sirjan is the primary hub for tribal-woven carpets.
Apart from Kerman City, other areas like Rafsanjani, Ravar, Bardseer, Golbaf, Mahan, Jupar, and Zarand are significant urban carpet-weaving centers.
Urban Carpet Weaving Centers in Kerman
Among the urban carpet weaving centers, the region of Ravar stands out as the foremost. Villages like "Faizabad" and "Tarz" are crucial on the outskirts of Ravar, along with towns such as Ismailabad, Yousefabad, Jalalabad, and Taqiyabad to the north, and cities like Reyhan, Tashk, Baqijan, and Khurand to the south, constitute the main centers of carpet weaving in the Ravar district.
Ravar itself has historically been a prominent center for carpet weaving. Figures like Abbas Khan Nakhai and Panjali Khan Nakhai have been famous and longstanding producers in Ravar.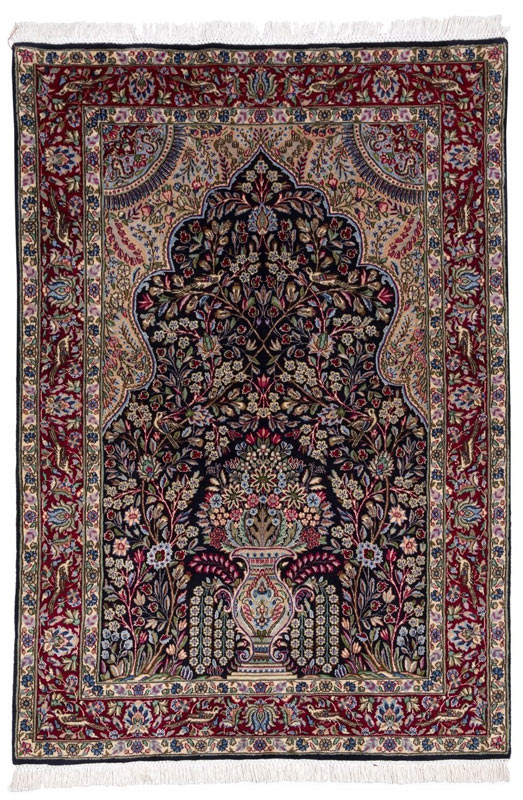 Foreign companies such as Atiyeh Bors and even Shadrovan Ahmad Yazdani Panah have also contributed to carpet production in the Ravar region.
The Golbaf area is another center for Kerman carpet weaving, with villages like Fandog and Tirkhan being significant centers for tribal weaving. The Mahan region in Kerman and towns like Mahiabad, Ghanat Ghestan, Lenkor, Jupar, and Dastjerd constitute other essential areas for carpet weaving in Mahan.
Rafsanjan, a city famous for carpet weaving, has a history of engagement with foreign companies, expanding its carpet weaving activities. Although the design and color of Rafsanjan carpets do not differ significantly from other urban centers in Kerman, the prevalence of Nayin-style designs in northern and northeastern villages like Davaran, Dar, Dareh, and Taj is noteworthy.
Visual Characteristics of Urban-Woven Kerman Carpets
The patterns and colors used in Kerman carpets, from the past to the present, include:
Sabzi (green) design
Pictorial designs, with some of the finest examples woven in the Ravar district. Notable structures include Hafez, Leyli Maj, nun, Khayyam, and various mystical and romantic themes, often combined with the beautiful Sabzi design.
Afshan designs, especially the Safavid Afshan, which may be the best in contemporary times, were crafted by the skilled designers of the Shahrokhi dynasty.
Other famous Kerman designs include Quranic motifs, tree and vase patterns, and flower designs.
Gobelin-like patterns also played a significant role in the early 13th century AH, defining a crucial part of Kerman's design repertoire influenced by non-Iranian decorative arts. Regarding coloring, Kerman carpets are considered one of the most diverse and vibrant Iranian carpets. Rich burgundy, light and dark blue, beige, apricot, copper, light and dark blue, gray, pink, and light green are among the prominent colors used in Kerman carpets. On average, each Kerman carpet incorporates 15 to 30 colors. What has genuinely made Kerman carpets globally renowned is their miraculous design and coloration.
Technical Features of Weaving in Kerman Carpets
Typically, the knot density in Kerman carpets varies from 35 to 80 knots per square inch.
The Persian knot is the exclusive knot used in authentic Kerman carpets, although, unfortunately, other types of U or V knots and paired knots have become prevalent alongside it.
Shearing in Kerman carpets is always done during the weaving process.
Currently, carpet finishing in Kerman involves using electric shears after the completion of weaving.
All carpet fringes in the Kerman region are vertical and, of course, movable, rotating fringes.
The method of rolling carpets is done in the Persian style.
Most Kerman, Ravar, Rafsanjan, and generally non-tribal carpets in this province have a specific type of three-ply structure. A three-ply form is seen between the rows of knots, with the first and third ply thick and the second ply thin. Although carpets with a two-ply design are also scattered, older Kerman carpets tended to have a half-ply structure, whereas contemporary ones often follow a full-ply system.