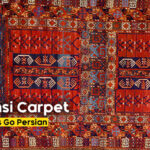 Introduction to Onsi Carpet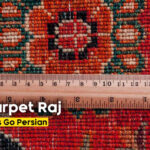 Raj and Knot Count Defined
Iran's Artisanal Heritage Unveiled: The Story of Gros Carpets
Gros or Bijar Carpets, one of the oldest and most historic handwoven carpets in Iran, with roots dating back to the year 1887 AD. The Gros region, centered around Bijar, stands as one of the most authentic producers of carpets, where carpet weaving remains prevalent, constituting one of the city's primary handicraft industries. Exploring the extensive world of Gros carpets will be delightful for carpet enthusiasts.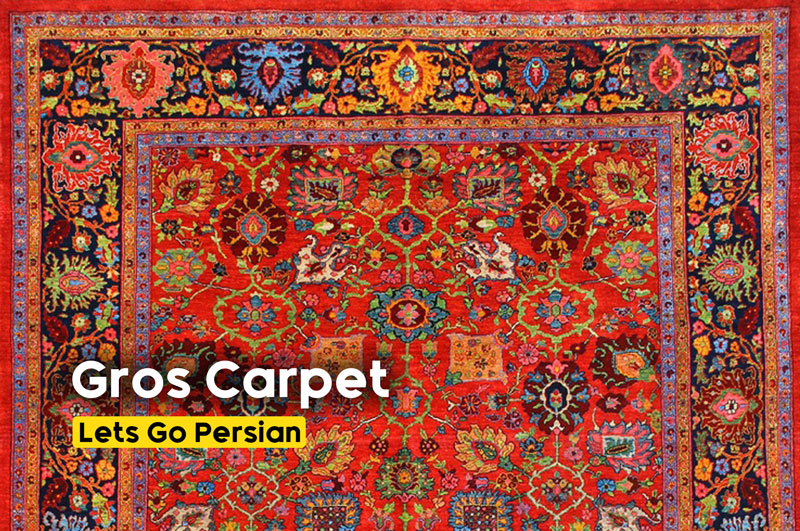 The Background of Gros Carpets
The economy of the Gros region relies on agriculture, animal husbandry, and handicrafts, making it a pioneer in carpet production in Iran. Gros carpets have an authentic quality that once illuminated the world of Iranian carpets. Renowned masters of carpet design, such as the late Mosi Masoudi, the late Asgharollah Moradi, Ali Asghar Lak, and Ghodratollah Gichloo, have woven their artistry into Gros carpets. Many ancient Kurdish rugs preserved domestically and internationally in museums belong to the city of Bijar. During the early days of World War II, when there was a high demand for carpets, Gros carpet weavers turned to producing delicate and high-quality rugs, thereby gaining international acclaim.
Gros Carpets or Iron Rugs
The most notable feature of Bijar carpets is their dense structure, earning them the reputation of "iron rugs." These carpets are robust and cannot easily be folded. In the early days of the carpet trade, they were nicknamed "Lool" due to their firm and compact structure. To create a tightly woven and compressed carpet, thick woolen threads, possessing a resilient quality, are used and vigorously beaten. Skillful carpet weavers introduce wide and one or two thin wefts to create a durable and robust texture. These skilled artisans employ heavy iron or wooden tools resembling iron fingers to achieve a dense and compact weave.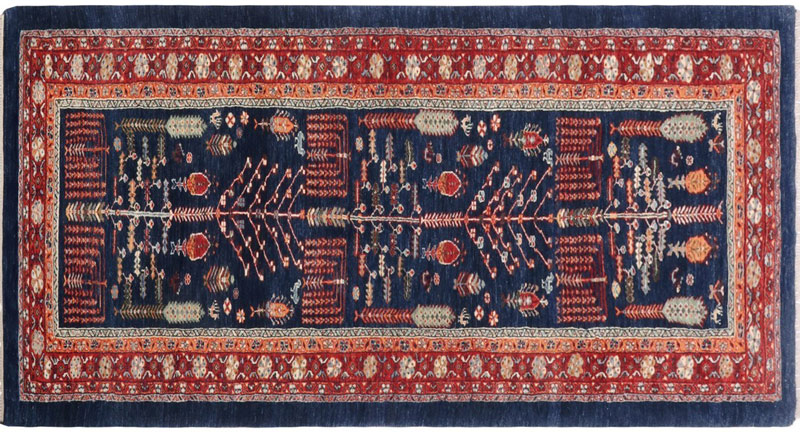 Colors and Luster of Gros Carpets
Gros carpets' captivating combination of colors is among its most prominent features. The blend of shiny wool and enchanting colors usually results in a saturated tone, bringing to life imaginative and creative carpet designs akin to jewels. The bold contrast in color schemes enhances the beauty of these carpets. Vibrant and intense colors, such as red, vivid pink (a local term for bright pink), pink, black, onion skin, white, henna, and various shades of green, are frequently employed in Gros carpets. The energetic and top-quality colors artists use in carpet weaving reflect Kurdistan's colorful and beautiful nature. The number of colors in Bijar carpets does not exceed 27, with red, white, and navy blue being more prevalent than other colors.
Shirazeh Weaving in Gros Carpets
The warp and weft woven into Gros carpets are made of wool and cotton, and the Turkish knot is employed. The Shirazeh of Gros carpets is of the twisted type and often matches the color of the rug. Most contemporary Gros carpets have between 30 to 35 knots per inch, although older samples with 15, 25, and 40 knots per inch can also be found. In the past, Gros carpet weaving involved five wefts, resulting in a heavy and firm texture. However, contemporary Gros carpets have two wefts in the weave. The issue of old carpet edges causing unevenness has been resolved today using metal and rotating cutters.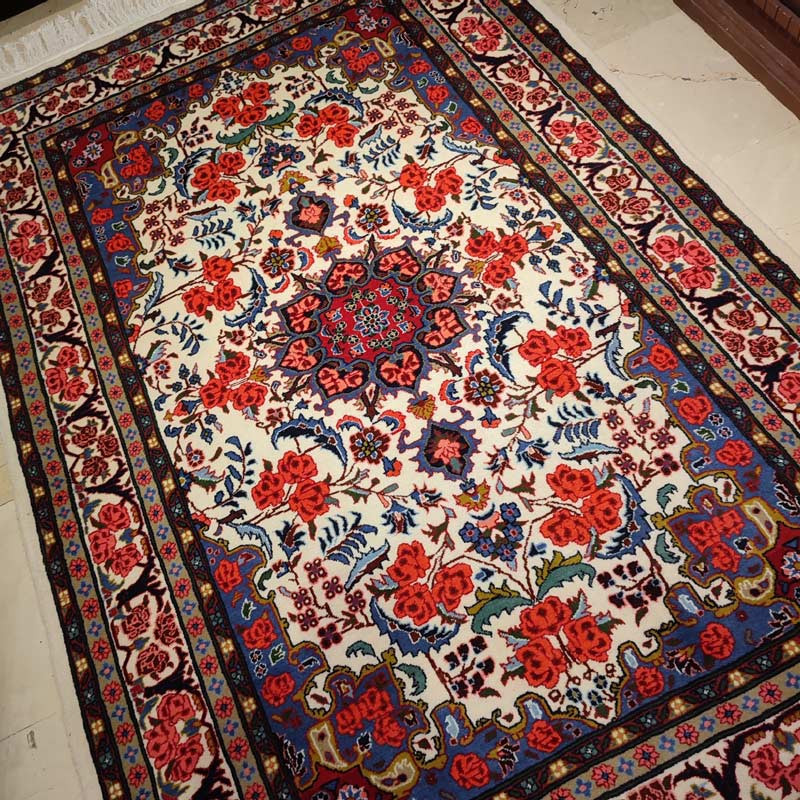 Designs and Patterns of Gros Carpets
The delicate texture, authenticity, and diversity of design patterns are other distinguishing features of Bijar carpets. Mina Khani and Herati designs, categorized as all-over patterns with intricate details and the almond-shaped lozenge pattern, are extensively used in vintage Gros carpets. In Bijar carpets, a bracket-like design, either above or below the tablet or as a suspended ornament, is also observed. Intertwined branches and artificial scattered flowers play a role in small villages and urban carpets. The Gros design, a beautiful and rare pattern for these carpets, features a medium shade of cobalt blue, adorned with large distinct patterns of blooming branches and Islamic motifs. In the main border, repeated bracket-like patterns catch the eye.
Famous Patterns of Gros Carpets
Some of the most famous patterns evident in these authentic carpets include:
Hunting designs such as round hunt and lozenge with hunting scenes.
Pictorial designs include Leyli and Majnun, mythical stories, and miniature patterns.
French flowers, representing Indian palm blossoms or English gardens, are observed in antique carpets. French flowers, twisted, almond-flowered, handle-flowers, and Islamic (curly) designs are used in Gros carpets.
Tree designs include willow, Majnun, rose and nightingale, roundabout, vase, and date palm.
Fish designs include Bijar fish, Sineh, Afshar, Mirk, Zobideh, Hassan Timur, a fish dog, a hornet, and small fish.
Shah Abbasi designs like Afshan, almond-flowered, and simple base.
Geometric designs include Suman on the Lady, broken Islamic, and Shirazi Khatami.
Islamic designs like French flowers, geometric or Sardari and dragon mouth.
Birdcage design.
Drug flower designs: Quarter drug and French and stylish drug and flower.
Mental designs such as imaginary animals, plants, objects, and humans.
Standard Dimensions of Gros Carpets
Bijar carpets come in various dimensions, ranging from small to large. Rugs are woven in sizes starting from 1.5 * 1 meters, and Gros carpets with delicate and eye-catching weaves are produced in larger dimensions, such as 3 * 2 meters and 3 * 4 meters. However, rugs with sizes exceeding 12 square meters are also prevalent in Bijar, but their number and popularity are lower. In the past, villagers used to produce larger-sized Bijar carpets, such as 32 square meters, upon the request of households. Still, villagers' production of huge rugs by villagers was limited.
Method and Technique of Weaving Gros Carpets
According to experts, the art of carpet weaving practiced by Bijar weavers is unparalleled anywhere else in Iran or the world. Gros carpets are woven with an asymmetrical Turkish knot, and the hands of the artists in this region add one or two weft threads after each row of knots. After a row of knots is tied, they place the weft thread (a horizontal thread that holds the knots tightly) and moisten it with water before inserting it. This moistening enhances its flexibility and softness compared to its dry state. The weaver then uses a comb to beat firmly over the knots. The weft threads, after drying, contract and create a dense pile.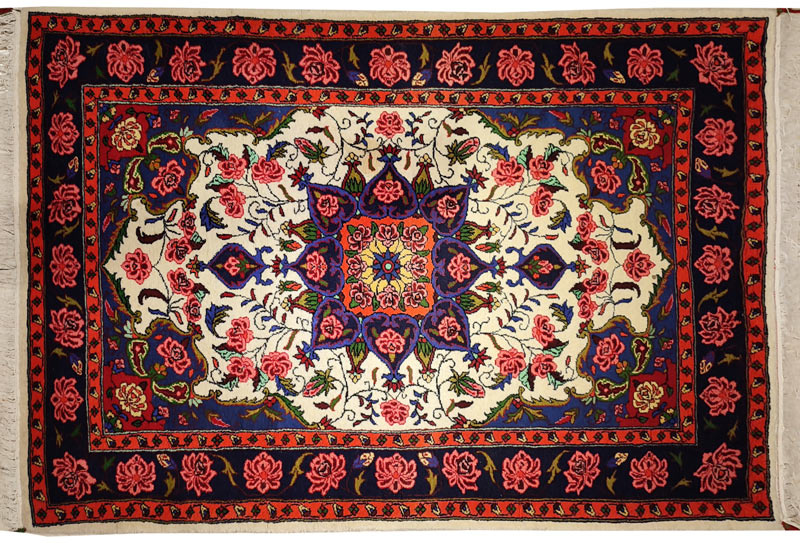 Coloring Process of Gros Carpets
Natural wool colors such as light gray, black, and brown in Gros carpets were used without dyeing. Additionally, plant-based dyes were employed in weaving these carpets, and carpet artists did coloring locally and domestically. In the past, communities would come together for face, creating various colors. However, for producing green and blue colors, the threads were sent to Bijar to make these two colors through the "Abykar" process. Nowadays, despite the availability of plant-based coloring resources in villages and surrounding areas, synthetic dyes are often used due to the high cost of natural coloring. Unfortunately, it must be noted that this is almost unavoidable.
Quality of Gros Carpets
Bijar carpets, renowned globally for their simplicity, delicacy, and unique beauty, have many admirers. Gros carpets are among the best Eastern rugs due to their solid and durable daily use. Even the modern Bijar carpet workshops maintain authenticity and quality in design and structure. It's worth noting that the pile of Gros carpets is medium to tall. In precious old and valuable carpets, the bank is shorter, revealing the carpet's pattern more prominently.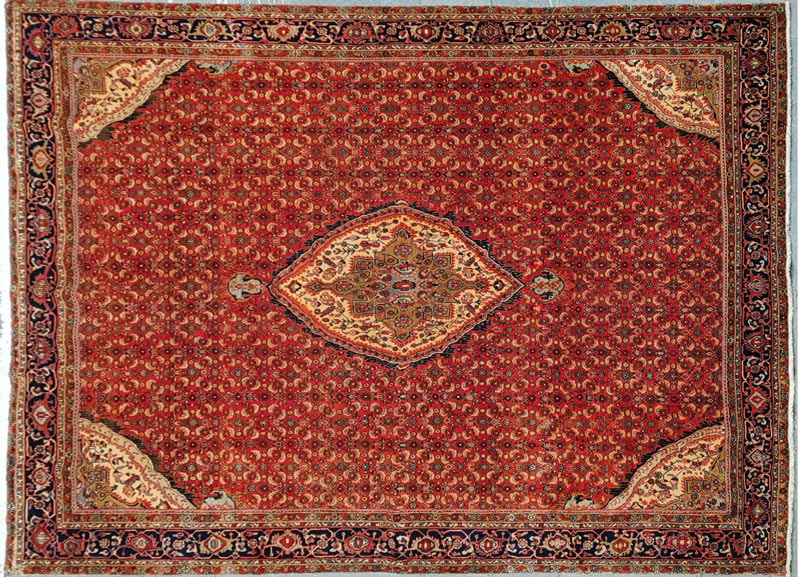 Additional Points about Gros Carpets
Currently, carpet weaving in the Gros region occurs in two primary forms:
Single Weaving or Home Weaving: In this form of production, artists prepare raw materials and tools at home, weave the carpet knot by knot, and ultimately sell it themselves.
Government Investment: Organizations such as the Handicrafts Organization or the Labor Department provide raw materials and financial assistance to carpet weavers.
Given the beauty and quality of Gros carpets, they always have their fans and specific demands. This contributes to Bijar carpets being relatively more expensive than similar examples.
Gros carpets are woven in the form of Lool, semi-Lool, and, in rare cases, flat. In Lool weaving, the weft is usually drawn horizontally, and as a result, the threads are placed at two different levels. This method emphasizes beating the weft so that the knots adhere more, creating a more robust carpet weave.