Mutabi, an Endangered Art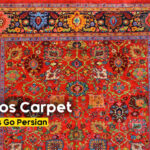 Gros Carpets: Authentic and Ancient Iranian Artistry in Woven Warp and Weft
Turkmen Craftsmanship Unveiled: The Artistry of Onsi Carpets
How familiar are you with Onsi carpets among the Turkmen people? We will tell you about this carpet that, unlike other mats, is not a floor covering. Turkmen are known for their exquisite craftsmanship. Due to their nomadic lifestyle in the past, they have created numerous handcrafted items for various purposes, such as the Onsi carpet. The Onsi carpet has been a beautiful and eye-catching covering for the entrances and curtains of Turkmen tribal tents during cold days. Since Turkmen reside in Central Asia's vast plains and face bone-chilling winter cold, they use Onsi to stay warm inside their yurts (tents). Onsi not only enhanced the aesthetic appeal of each tent but, more importantly, helped retain the warmth inside the tent.
The patterns used in the weaving of Onsi are fascinating, diverse, and, in their way, remarkable. For example, in the lower section of the Onsi carpet, the weaver creates patterns symbolizing the earth, the globe, and the transient world. In the upper area of the Onsi carpet, the weaver creates domes, signifying paradise, and borders representing rivers, fulfilling the role of irrigating the land.
Onsi Carpet. Dimensions: 130 x 180 centimeters. Belonging to the Sarik tribe. Woven in the 18th century. In some Onsi carpets, animals such as humans, dogs, dragons, goats, and even plants are present. Such patterns and designs in the text and border of Onsi carpets signify the constant movement of the world. Upon opening their eyes, a Turkmen infant's first image is part of the land hanging at the bottom of the curtain (Onsi carpet) over the tent entrance.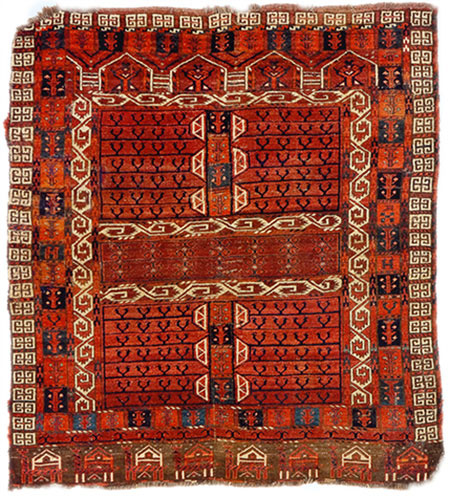 As the Turkmen girl or boy grows up inside the tent, they become familiar with all the animals and plants whose images are woven into the carpet until they can see the pictures of the sky in adulthood and tall stature. As a result, their knowledge and education progress, reaching the level of their ancestors. It should be imagined that the Onsi carpet is a reminder of the fundamental worldview of the Turkmen people.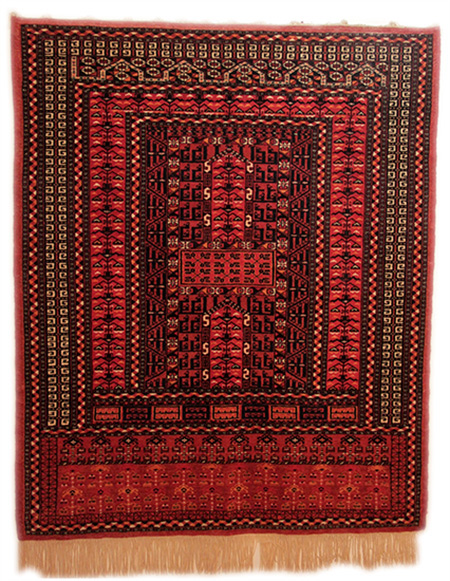 It is worth noting that in the past, the Onsi carpet woven for the tent entrance was not for sale. This carpet was the door, and the Turkmen woman rocked it with utmost artistry. The access to the yurt, or simply the tent, is considered a unique and sacred place for the Turkmen, which is why numerous decorative elements are used.
Turkmens, besides Onsi, used another exquisite rug called "Qarmach" to adorn the entrance of their tents. However, Qarmach, woven for decorating large wedding tents or palanquins for carrying brides, was much more significant.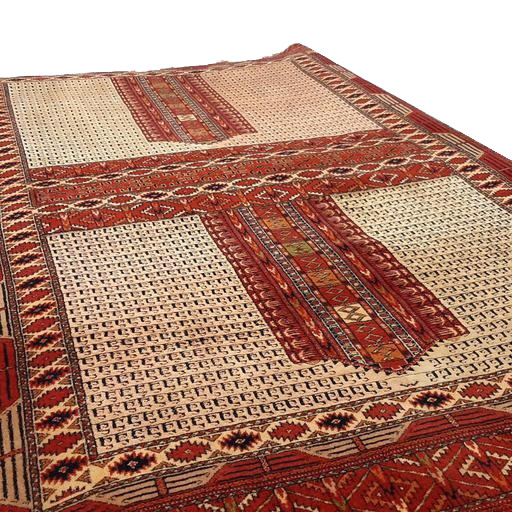 Onsi, in other Turkmen tribes, has been accompanied by the main framework but sometimes with the removal of domes and changes in the layout and designs.
They are quoted from the book "Turkmen Carpets" by Elena Tsareva, translated by Hossein Kamandlou.