Introduction to Turkmen Felt
Introduction to Kerman Carpets
Haris and Khoy: Exploring Azerbaijani Carpet Weaving
Azerbaijani carpet weaving stands as one of the principal pillars of Iran's rich carpet-making tradition. Alongside regions like Khorasan, Kerman, Isfahan, Arak, and Kashan, Azerbaijan has been renowned as one of the country's most distinguished carpet weaving centers. Historical studies reveal that Tabriz, among all the carpet-weaving centers in this region, has held significant credibility. It became a central hub for the production and trade of carpets during the Hellenistic period, parallel to Herat.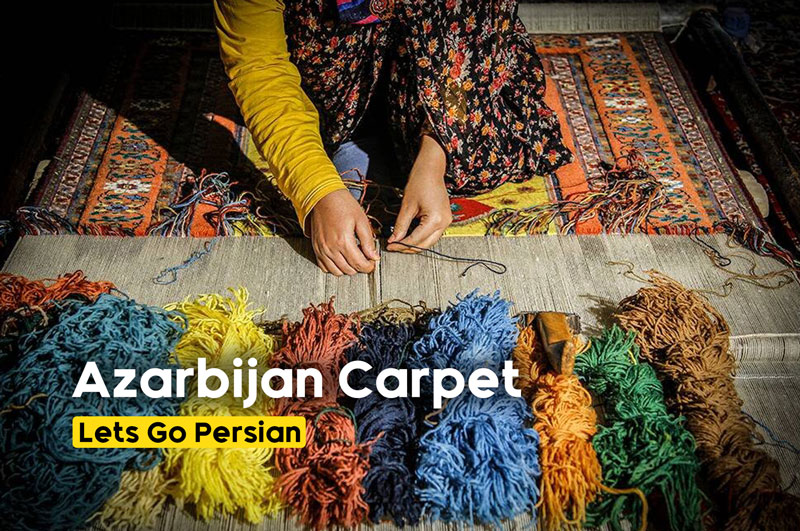 The peak of Azerbaijani carpet production blossomed during the Safavid rule. By establishing top-notch carpet weaving workshops in Tabriz, the Safavid kings have brought together skilled weavers and designers, creating carpets of exceptional beauty. Some of these carpets, made during that time, are still adorning the grand museums of the world.
The city became the second artistic school after the capital moved from Herat to Tabriz. Many artists from various fields settled there, turning Tabriz into a focal point of art. In this cultural milieu, carpet weaving, particularly under the guidance of renowned artists like Master Reza Behzad and Sultan Mohammad Douchian, flourished.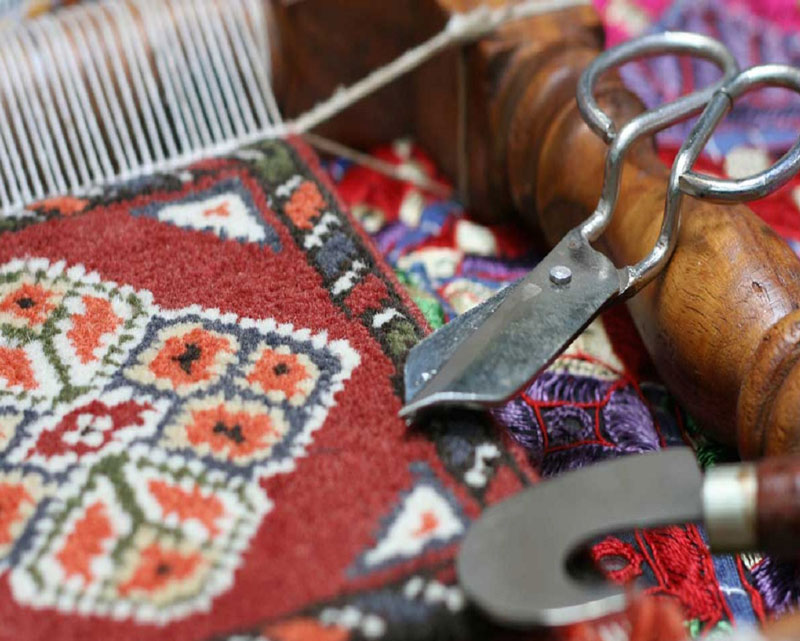 The role of merchants should not be overlooked. They played a vital role in promoting this art globally by exporting carpets from Azerbaijan, Hamedan, and other regions. Many Iranian carpets were exported to Europe through Tabriz and, separately, from Bandar Abbas to the United States.
The export of Iranian carpets through Tabriz was so honorable for the Iranian government that images of this event adorned the first beautifully crafted postcards printed in the late Qajar period, sent to every corner of the world.
Haris Carpet
Cecil Edwards writes about it in his book: "The trade of these goods was in the hands of Tabriz merchants, who were well-known and affluent. Their trade houses also had branches in Istanbul. Their main dealings involved buying goods from Western factories and transporting them to Iran via Trabzon."
Notable merchants included Haj Yusuf Qalichi, Haj Mirza Jafar Islambolchi, Haj Samed Qara Qalichi, Mirza Ali Asghar, Ali Akbar, and Ismaeil Qalichi, Sadeqiani, Eypakchi, Haj Mohammad Mamaghani, Mahmoudi, Dilmaqani, Awakian, Kasbarian, and Ardabadi.
Key Carpet Weaving Centers in Azerbaijan
Azerbaijani carpet weaving can be categorized into three styles: rural, urban, and tribal.
Urban carpets are produced in Tabriz, Azarshahr, Marand, Maragheh, Khoy, and Urmia. Rural rugs, on the other hand, belong to villages and districts like Haris, Mehraban, Bakhayesh, Sharbiyan, Garavan, and areas around cities such as Ardabil, Sarab, Meshkin Shahr, and Kaleibar. These rugs complement the local and rural Iranian carpets with simpler geometric patterns. Additionally, tribal carpets in Azerbaijan, dominated by the Shahsavan tribes, stand out. Alongside these tribes, other nomads, especially the Arsbaran Denizli tribes, craft beautiful handwoven such as kilims and rugs.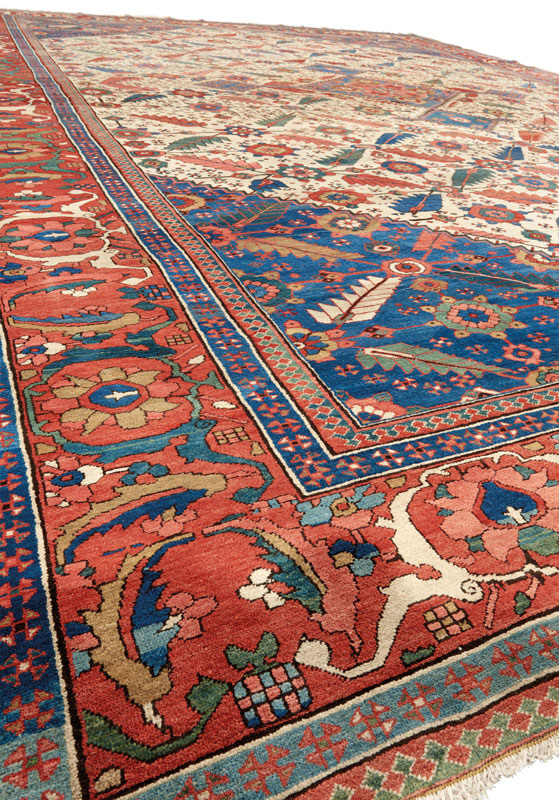 Patterns and Colors of Azerbaijani Carpets
Tabriz is recognized as the primary hub for urban Azerbaijani carpets, a center for prominent and well-known producers. Rugs from Tabriz and other affiliated centers allow us to find elements of various beautiful Iranian carpet designs. Tabriz weavers, especially in contemporary times, incorporate multiple attractive designs, combining different colors to create new patterns. Patterns such as Lachak and Toranj, trees, vases, broken branch designs, and dozens of others are employed by contemporary weavers in Tabriz, Marand, Khoy, and more.
The use of intense pink, yellow, orange, and vibrant blues, distinct even from the beautiful blue of rural Azerbaijani carpets, characterizes these carpets.
The beauty of Lachak and geometric Toranj patterns from Haris is such that many carpet weavers in Tabriz, in particular, have copied them and introduced them to the market as "Haris carpets." Hari's rugs and Toranj's broken branch patterns are known for their intricate designs. Examining ancient Hari's carpets reveals a considerable diversity in ways, with a play of colors that added a unique beauty to them.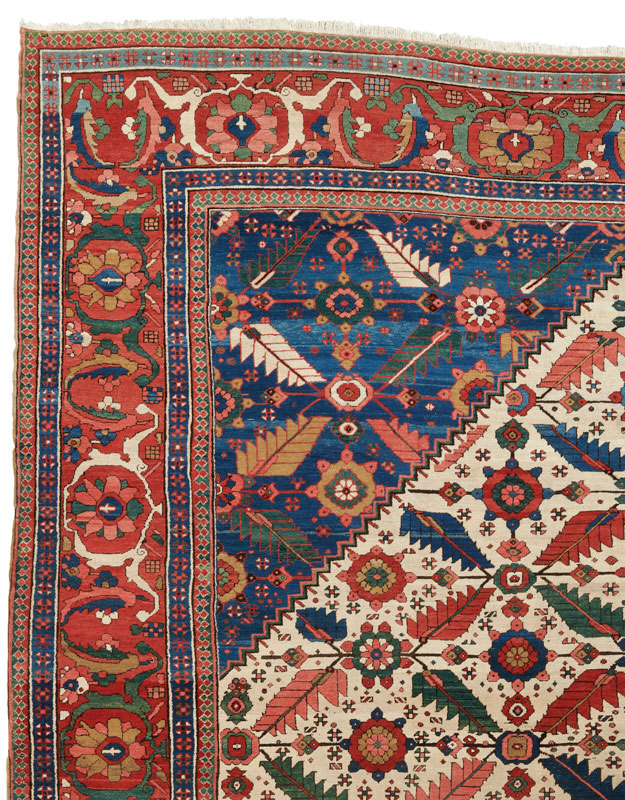 Despite most contemporary rugs in this large village having a lower knot count, the presence of some precious old examples made entirely of silk tells the tale of the golden era of Hari's carpets in the not-so-distant past. Even today, in many large Iranian and international carpet stores, old Hari's carpets are favorites among enthusiasts.
It is said that the first and second decades of the 20th century represent the golden age of Haris carpet weaving. During this time, weavers' creativity in carpet design for export to Europe resulted in the successful export of many of Haris's carpets to foreign markets.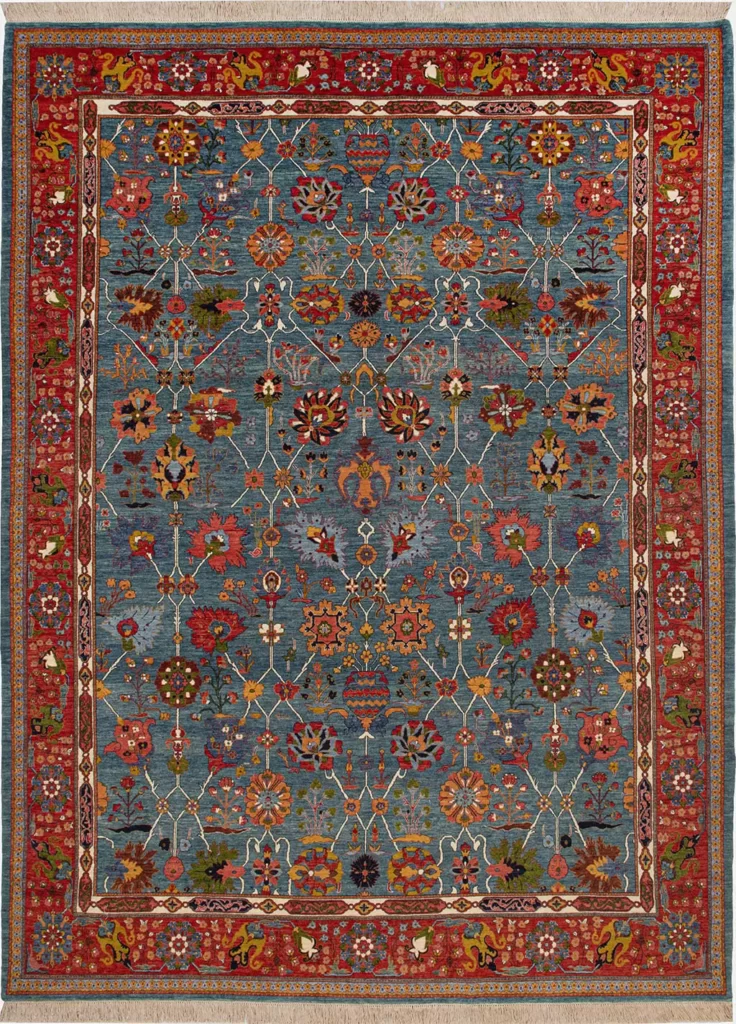 Shahsavan tribal carpets also share specific similarities with rural Azerbaijani carpets, especially for older specimens, possessing relatively similar qualities. Perhaps the primary reason for this lies in the use of wool from Shahsavan tribal sheep in the rural carpets of this region. The main difference in Azerbaijani carpets from the various areas may lie in their patterns, colors, dimensions, and weaving characteristics.