Let's get to know the pattern and design of tree carpets more.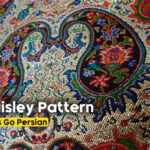 Let's get to know the Paisley pattern better
The Art of Storytelling: Symbolism in Turkmen Carpet Designs
The Turkmen pattern is one of the carpet designs that has gained many enthusiasts today. The beauty of this pattern is remarkable, and that's why many individuals are drawn to it. However, not everyone is familiar with the details of the Turkmen pattern. To provide you with more information, let's delve into the history and features of this design.
History of the Turkmen Pattern
Nomads of the Turkmen, settling in regions from Afghanistan to the border of Iran and throughout Turkestan, are credited with inventing the Turkmen pattern. They resided in an area that required constant protection against natural events. Additionally, they defended their territories against external threats, continuously expanding their domain. This lifestyle led the nomadic Turkmen to become warriors and continued this way of life until the early 20th century.
However, in the 20th century, some Turkmen turned to agriculture, moving away from yurt living (Turkmen tents). They found settlements in cities and villages, establishing connections with significant trade centers of that time, such as Bukhara, Khiveh, Merv, and Pandeh. They exchanged their products, including carpets with Turkmen patterns, for essential goods like salt, grain, sugar, tea, etc. Thus, Turkmen carpets, with their distinctive designs, entered the market.
Where Is the Turkmen Pattern Popular Today?
Today, the Turkmen pattern is widespread in the North Khorasan province, and most residents have special knowledge about this pattern. This is because many Turkmen migrated to North Khorasan in the past and settled there. To familiarize yourself with the Turkmen pattern, pay attention to the carpets woven in North Khorasan. The artistry of Turkmen's design has increased to the extent that individuals embroider various clothing styles, enhancing their beauty. Let's discuss some of its features to provide more insight into this pattern.
Features of the Turkmen Pattern
Just like any other pattern, the Turkmen pattern has distinct characteristics. Some of its features include:
Maari Gol (Turkmen Pattern):
Maari Gol, also known as the "Turkmen pattern," "Kushk Daban pattern," or "camel's foot pattern," is a highly distinctive motif in Turkmen carpets. Its name originates from the Turkmen's reverence for camels, considering these resilient and hardworking animals virtuous. Another reason for adopting such a pattern was the Turkmen Muslims' avoidance of animal motifs.
Maari Gol Pattern
Ghafseh Gol Pattern
Another traditional Turkmen pattern is the "Ghafseh Gol" pattern, belonging to the Yomut tribe (Jafar-bai). "Ghafseh," "Qobseh," or "Ghafseh" is derived from the root of the word "qafas," meaning a fence or protector. This pattern is inspired by the shape of a bird's nest found on the shores of the Caspian Sea, where birds among four-legged animals lay their eggs. It depicts how the bird protects its chicks in an open environment beside the Caspian Sea, an idea woven into Turkmen carpets by Turkmen women.
Ghafseh Gol Pattern
This design symbolizes a bird resting on its chicks. Five chicks are visible under the bird's wing in every direction, with ten on either side. The border of this design is adorned with ship anchors, indicating the settlement of people near the sea.
The "Ghafseh Gol" pattern is highly repetitive and used throughout carpets. In crafting this pattern, inspiration is drawn from the human face, incorporating two eyes, a nose, and a mouth.
Toqrol Gol (Eagle Pattern):
Toqrol Gol, or the "Eagle Pattern," is another Turkmen design associated with the Jafar-bai tribe. This pattern depicts the victory of Toqrol Soltan, a Seljuk leader, over Mas'ud Ghaznavi in 1053 AD. Toqrol holds a trained eagle in his right hand and an unsheathed sword in his left. This pattern not only showcases the bravery of Toqrol but also evokes the vast plains where the nomadic Turkmen roamed.
Toqrol Gol Pattern
Dornaq-gol
This pattern belongs to the Jafarbay tribe, such as the Yamut. "Dornaq" translates to "claw" or "nail." This latticed, almond-shaped pattern features a serrated border, with each serration referred to as "Dornaq." The Dornaq, or claw, symbolizes personal strength in offense and defense. Alternatively, it might be indicative of the power to attack and defend.
Dornaq-gol pattern
However, since merchants historically referred to this type of floral pattern as "Gol-e-Shane," it is possible that the original term has been distorted. "Dornaq-gol" might mean the "Hair Strand pattern." In this design, crafted in various forms, shapes resembling hair strands can be observed. Hair strands are considered an essential element for Turkmen women, and perhaps for this reason, they have found their way into their carpets' patterns.
Mirror-gol
This pattern is predominantly used by the Yamut Turkmen, specifically the Jafarbay tribe, in their weaving. However, an interesting point about the Mirror gol is that the Jafarbay tribe adorns the surrounding edges of this pattern with motifs resembling ram horns, locally referred to as "Qeregh-Quchagh," meaning forty ram horns.
Mirror-gol pattern
As observed in the design, this pattern and its elements are symmetrical, resembling a mirror. This pattern, with details like mirrors at the center, reflects aspects of Turkmen tribal life, with ram horns, nooks, and birds depicted in each quadrant.