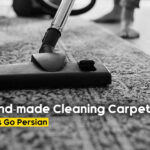 Handwoven Carpet Washing Guide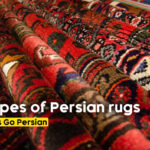 Which city in Iran has the best handwoven carpets?
Silk vs. Wool Warp Carpets: Comparing Aesthetics, Durability, and Price
The differences between silk and wool warp result in variations in the final handwoven carpet. Before enumerating the differences between silk and wool warp, we intend to briefly explain warp winding so that you can better familiarize yourself with the content. Warp winding is one of the most critical stages before weaving any carpet, which is done using various methods and cannot result in a beautiful and perfect rug without proper and principled warp winding. After reading the carpet's pattern, a professional warp winder determines the number of warp threads, prepares tools and equipment such as a carpet beam, shuttle, comb, meter, black pencil, etc., and starts warp winding.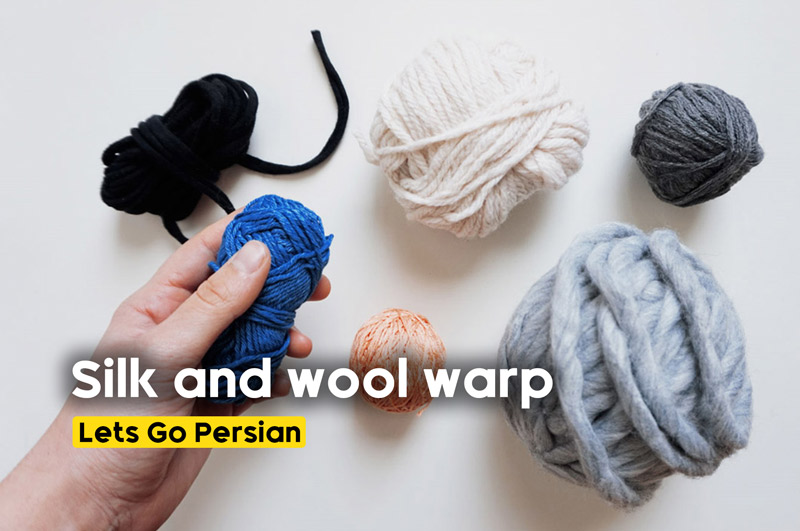 Warp winding is done in Turkish and Persian methods, each with its characteristics, but simply put, the result of each warp winding is the correct, uniform, and regular tensioning of threads on the carpet beam. The warp thread is a delicate and twisted thread vertically installed in warp winding on the carpet beam. Their job is to hold the carpet knots, and depending on the fineness or type of carpet, they can be made of cotton, wool, or silk. Now, we can move on to the differences between silk and wool warp.
Choosing the Type of Warp
We start mentioning the differences between silk and wool warp by addressing how the decision is made for the type of warp in carpets. Considering the carpet's pattern, weave density, delicacy, finesse, and the type of the final carpet determine the kind of warp. One of the most prominent differences between silk and wool warp is that the use of wool warp is less every day these days than silk warp, but both are essential materials in carpet weaving.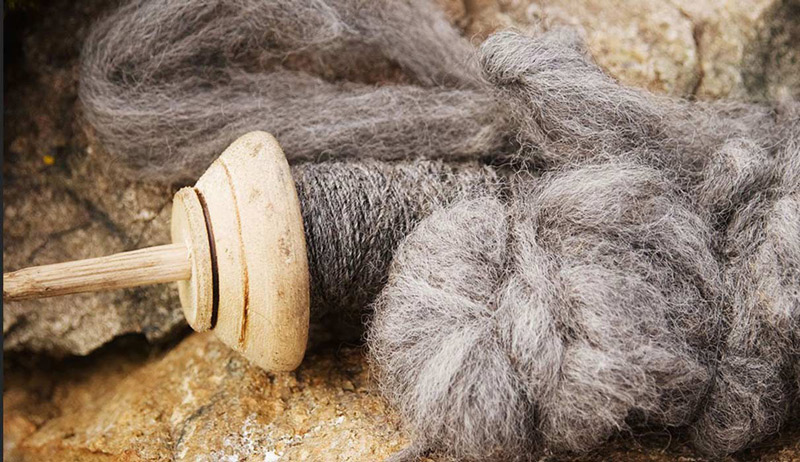 Characteristics of Silk Warp and Wool Warp
Silk Warp: Silk warps are made in silk farming factories from the cocoon filaments of silkworms. These threads are delicate, soft, and gentle while firm and durable, making them an excellent choice for finely woven carpets that showcase finesse and artistry.
Wool Warp: Wool threads were more commonly used in the past due to their strength, durability, heat insulation, and availability. Wool is obtained during the wool-shearing seasons from sheep.
Impact of Warp on Carpet Prices
One of the most important reasons for the different prices of handwoven carpets is the difference between silk warp and wool warp. The most expensive handwoven rugs are made of silk and silk warps, and wigs that combine silk and wool are more affordable. One of the differences between silk warp and wool warp is the superior quality, durability, and beauty of silk warp compared to wool warp. This, along with the longer lifespan, makes silk carpets more expensive than woolen carpets.
Silk warps come from nature and are obtained from silkworm cocoons, adding to the charm, attractiveness, and uniqueness of silk warps. Despite all the differences between silk and wool warp and their distinct values, both silk and wool warp have their characteristics, preserving a range of natural powers.
Comparison of Silk Warp with Wool Warp
While we have discussed the differences between silk and wool warp in terms of value and more, wool and silk have advantages that cannot be easily overlooked. One of the differences between silk warp and wool warp is that carpets woven with silk warp are better suited to spreading in low-traffic areas of homes due to their exceptional finesse, being shinier, softer, and better quality than woolen carpets. They are considered luxurious and exquisite items.
On the other hand, carpets with wool warp have greater thickness and roughness, making them suitable for places with more foot traffic. It should be noted that wool obtained from famous Iranian sheep breeds such as Kurdish, Bakhtiari, Baluchi, Afshari, Qashqai, etc., produces high-quality and expensive wool. One of the differences between silk warp is the more extraordinary ability of yarn to create and retain warmth than silk.
Additionally, the high ability of woolen carpets to impact health, alleviate pains, improve blood circulation, and provide a comfortable sleep contributes to their popularity. One similarity between silk and wool warp is that both come from nature and generous living beings, making them unique.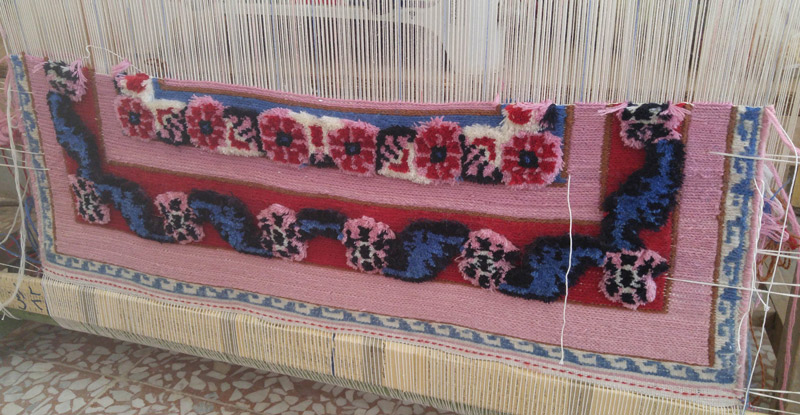 Final Notes
The differences between silk and wool warp in various aspects, such as thickness, finesse, fine weaving, beauty, price, durability, health effects, etc., make them suitable for multiple tastes when facing different types of carpets. Handwoven silk carpets and natural silk tapestries are full of art and give Iranian identity, a unique authenticity, and charm to home decor. Of course, you should know that, like wool with different quality levels, silk warp also has grades 1, 2, and 3, with the best silk being produced in Tabriz, Iran.
Silk grade 1, while soft, is firm and durable and does not tear during warp winding and weaving. One of the differences between silk and wool warp is their color; silk is golden, and wool can have different colors, with Sistani sheep's wool being white, and its color fastness capability is excellent. Regardless of the differences between silk and wool warp, your taste and purpose for buying a carpet are essential, and buying from reputable carpet sellers informs your purchase.